Tuning a bi-enzymatic cascade reaction in Escherichia coli to facilitate NADPH regeneration for ε-caprolactone production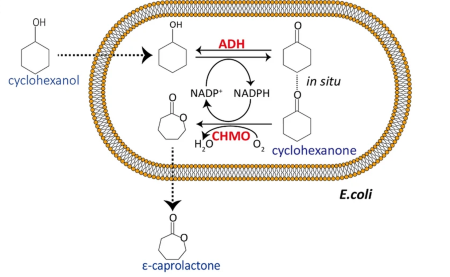 ε-Caprolactone is a monomer of poly(ε-caprolactone) which has been widely used in tissue engineering due to its biodegradability and biocompatibility. To meet the massive demand for this monomer, an efficient whole-cell biocatalytic approach was constructed to boost the ε-caprolactone production using cyclohexanol as substrate. Combining an alcohol dehydrogenase (ADH) with a cyclohexanone monooxygenase (CHMO) in Escherichia coli, a self-sufficient NADPH-cofactor regeneration system was obtained. The engineered whole-cell biocatalyst was used in four sequential batches to achieve a production of 126 mM ε-caprolactone with a high molar yield of 0.78 mol/mol.
Read the full article here
Aims and scope
Bioresources and Bioprocessing (BIOB) is a peer-reviewed open access journal published under the brand SpringerOpen. BIOB aims at providing an international academic platform for exchanging views on and promoting research to support bioresource development, processing and utilization in a sustainable manner. As an application-oriented research journal, BIOB covers not only the application and management of bioresource technology but also the design and development of bioprocesses that will lead to new and sustainable production processes.
BIOB publishes original and review articles on most topics relating to bioresource and bioprocess engineering, including:
Biochemical and microbiological engineering
Biocatalysis and biotransformation
Biosynthesis and metabolic engineering
Bioprocess and biosystems engineering
Bioenergy and biorefinery
Cell culture and biomedical engineering
Food, agricultural and marine biotechnology
Bioseparation and biopurification engineering
Bioremediation and environmental biotechnology
Recent News
ISSN: 2197-4365 (electronic)
This journal is indexed by
SCOPUS
Emerging Sources Citation Index
Google Scholar
CNKI
DOAJ
EBSCO Discovery Service
EBSCO TOC Premier
OCLC WorldCat Discovery Service
ProQuest Biological Science Database
ProQuest Materials Science & Engineering Database
ProQuest Natural Science Collection
ProQuest SciTech Premium Collection
ProQuest Technology Collection
ProQuest-ExLibris Primo
ProQuest-ExLibris Summon