Enhanced production of flavonoids by methyl jasmonate elicitation in cell suspension culture of Hypericum perforatum
Bioresources and Bioprocessing
2015
2:5
Received: 18 November 2014
Accepted: 22 December 2014
Published: 18 February 2015
Abstract
Background
Flavonoids of Hypericum perforatum are important secondary metabolites which have been widely utilized in medicine for a range of purposes. The use of methyl jasmonate (MeJA) elicitation for the enhancement of flavonoid production in cell suspension culture of H. perforatum would be an efficient alternative method for the flavonoid production.
Results
MeJA influenced the cells growth and flavonoid production. The optimal elicitation strategy was treatment of the cell cultures with 100 μmol/L MeJA on day 15, which resulted in the highest flavonoid production (280 mg/L) and 2.7 times of control cultures. The activities of catalase (CAT) were inhibited after MeJA treatment in the cell cultures, while the activities of phenylalanine ammonia lyase (PAL) increased, which led to the enhancement of flavonoid production.
Conclusion
MeJA elicitation is a useful method for the enhancement of flavonoid production in cell suspension culture of H. perforatum.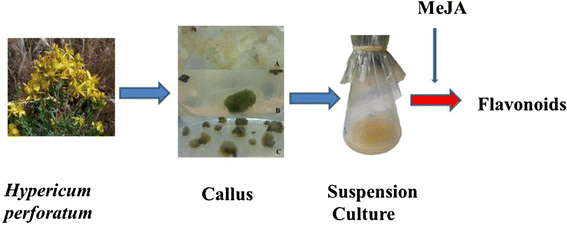 Keywords
MeJA Hypericum perforatum Suspension cultureFlavonoids
Background
Hypericum perforatum, commonly known as St. John's wort, is a perennial herb native to Europe and also a traditional medicinal plant which has been utilized in Chinese folk medicine for a range of purposes [1,2]. The medicinal applications of H. perforatum, including skin wounds, eczema, burns, diseases of the alimentary tract, and psychological disorders, have been related to the phenolic composition of the plant, particularly to hypericins, hyperforins, and flavonoids [3,4]. The efficacy of medical constituents of H. perforatum is based on the whole secondary metabolites, rather than the presence of single chemical compound [5]. Flavonoids, specifically quercetin and its glycoside derivatives, comprise the major group of biologically active metabolites in H. perforatum and are important biochemical markers in authenticating the herbal plant materials [4,6].
The consumption of H. perforatum-derived products as pharmaceutical preparations or food additives has increased dramatically, and it is presently one of the most consumed medicinal plants in the world [4,7]. The extracts of H. perforatum currently used in foods and pharmaceutics, mostly composed of flavonoids, are mainly obtained from the top aerial parts collected in the flowering stage [6,8]. However, the quality of the flavonoid-rich extracts derived from field-grown plants may be affected by many environmental factors as well as biological processes [5]. Furthermore, field cultivation of H. perforatum requires a long growth period and plant management, which is a slow and laborious process [6]. Therefore, an alternative method for more efficient and controllable production of flavonoids from H. perforatum is urgently required.
Plant cell, tissue, and organ cultivation technology has been successfully applied to the production of pharmaceutically valuable compounds and other fine chemicals of commercial interest in recent years [9]. For instance, cell suspension cultures of Panax ginseng have been widely used for the production of saponin and other metabolites [10]. Plant-mediated green biomimetic synthesis of silver nanoparticle was considered a widely acceptable technology for rapid production of silver nanoparticles for successfully meeting the excessive need and current market demand and resulting in a reduction in the employment or generation of hazardous substances to human health and the environment [11]. Till now, a number of efforts have been made for the establishment of cell and/or adventitious root cultures of H. perforatum for the production of hypericins, phenolics, and xanthones [12-15]. The information on the factors affecting biomass and aforementioned metabolites of H. perforatum was also investigated through elicitation and culture optimization [1,16-18]. However, there are few reports on the production of flavonoids from cell suspension culture of H. perforatum, and little is known about the strategies for hyperproduction of biomass and flavonoids.
Many cell cultures have been established from plants, but they seldom produce sufficient amounts of the required secondary metabolites. Secondary metabolite biosynthesis in plants depends on environmental stresses; their accumulation can be stimulated by precursors and elicitors [19]. Precursors are intermediate compounds of the secondary metabolite biosynthesis cycles, which would be toxic to the culture if not used at an appropriate stage or concentration [20]. Elicitors are biological (components of microbial cells and poly- and oligosaccharides), chemical (heavy metals, pesticides, and the signaling compounds in plant defense responses), or physical (cold shock, UV, hyperosmotic stress, ultrasound, and pulsed electric field) factors that induce enzymatic activity against stress [19-21]. Jasmonic acid (JA) and its methyl ester, methyl jasmonate (MeJA), have been proposed to be important signaling compounds in the process of elicitation leading to the hyperproduction of various secondary metabolites [14]. They have also been reported to play a key role in signal transduction processes that regulate defense responses in plants and shown effective to enhance the production of secondary metabolites in cell cultures [14,19].
In the present study, the effect of MeJA on cell growth and flavonoid biosynthesis in the H. perforatum cell suspension culture was investigated in small batches. Some parameters, such as elicitation time and MeJA concentration, on biomass and flavonoid production were studied in detail. The activities of key enzymes (catalase and phenylalanine ammonia lyase) related to plant stress responses and secondary metabolite biosynthesis were investigated as well. To the best of our knowledge, this is the first report on the induction of flavonoid production by MeJA in cell suspension culture of H. perforatum.
Materials and methods
Chemicals
MeJA was supplied by Drug Institute of East China University of Science and Technology (Shanghai, China). Salicylic acid (SA), ammonium metavanadate (NH4VO3), and nickel sulfate (NiSO4) were purchased from Shanghai Zhong Lan Chemical Company (Shanghai, China). Acetonitrile of HPLC grade was purchased from TEDIA Company, USA. All other chemicals (analytical grade) were purchased from Shanghai Chemical Co., Ltd. (Shanghai, China).
Plant material and callus induction
H. perforatum plants were provided by Prof. Jie Qian (Tongji University, China) and were cultivated in the greenhouse. The fresh stem explants of H. perforatum were washed thoroughly with tap water, surface-sterilized with 75% ethanol for 60 s, and then soaked in 10% sodium hypochlorite solution for 30 s and rinsed seven times in sterile deionized water. The clean and sterilized stem explants were cut into 5-mm segments and inoculated on solid Murashige and Skoog (MS) [22] medium supplemented with 1.0 mg/L 2,4-D, 0.2 mg/L 6-benzyladenine (BA), and 25 g/L sucrose to induce callus formation. After 1 month, the successfully induced callus was separated from the explants and cultured separately until used for the establishment of cell suspensions.
Suspension cultures of H. perforatum cells
Cell suspension cultures were initiated from the friable callus and maintained in the liquid MS medium (pH 5.8) supplemented with 1.0 mg/L 2,4-D, 0.2 mg/L 6-benzyladenine (BA), and 25 g/L sucrose. A sterile standard sieve with aperture of 300 μm was used to filter the initial established suspension cells to obtain homogeneous cultures. The pre-weighed cells were cultured in a 250-mL Erlenmeyer flask containing a 50-mL medium; cultures were placed on a rotary shaker shaking at 120 rpm at 25 ± 2°C under continuous illumination. Every 20 days, cells were subcultured to fresh media with 5.0-g fresh weight (FW) in 250-mL flasks.
Elicitation of cell suspension culture
Four elicitors including MeJA, SA, NH4VO3, and NiSO4 were used to study the elicitation effect on flavonoid production by the cell suspension cultures of H. perforatum. MeJA and SA were dissolved in ethanol, NH4VO3 and NiSO4 were dissolved in water, and the four elicitors were filter-sterilized before adding into the suspension cultures. Based on the results of preliminary experiments, the feeding concentration of MeJA, SA, NH4VO3, and NiSO4 was 50, 100, 50, and 15 μM, respectively. As a control, filter-sterilized ethanol was added to the cell suspension culture with a final concentration of 0.2%.
According to the results of the above experiments, MeJA was selected for further study. The MeJA induction time and feeding concentration, known to be crucial to plant cell culture, were investigated by single-factor experimental design by varying a single factor at a time and keeping other factors at a constant value. All experiments were performed in triplicate, and data are expressed as the mean of three samples with standard deviation.
Extraction and HPLC analysis of secondary metabolites
H. perforatum extracts were prepared by soaking 0.5 g of the dried cells in 10 mL of methanol and treated with 1 h of ultrasonic extraction for two times. The extracts were then centrifuged at 10,000 rpm at 4°C. The supernatant was combined and used for HPLC analysis and flavonoid determination.
The HPLC system of Shimadzu LC-10Avp Plus with a PDA detector (SPD-M20A) and a C18 column (4.6 mm × 250 mm, 5 μm, Eclipse XDB C18) was used for the qualitative and quantitative analyses of flavonoids and other metabolites in the methanol extracts. The mobile phase was acetonitrile (A) and 0.1% trifluoroacetic acid (B). A gradient method was used for the separation of the extracted samples: 0-25 min, 15%-40% A; 25-40 min, 40%-100% A. The elution flow rate and detection wavelength were set at 1.0 mL/min and 254 nm, respectively. The identity of peaks separated by HPLC was confirmed by the injection of standard, and UV spectral analysis was carried out to confirm compound identification.
Determination of biomass and flavonoid content
The plant cell biomass is expressed as the gram fresh cell weight and/or dry cell weight per liter. Cell suspension cultures were filtered and washed by deionized water, then cells were collected and weighed to get the FW. The collected cells were dried in the vacuum drying oven at 45°C until constant weight (DW) was attained.
The flavonoid content was assayed using UV colorimetric method as reported elsewhere [5,13]. Briefly, 0.5 mL of the methanolic plant cell extract was mixed with 2 mL of distilled water and subsequently with 0.15 mL of a 5% NaNO2 solution. After 6 min, 0.15 mL of a 10% AlCl3 solution was added and the mixture was allowed to stand for a further 6 min before 2 mL of 4% NaOH solution was added. Absorbance of the mixed solution was measured at 510 nm using a UV-Vis spectrophotometer (UV-1650PC, Shimadzu, Japan). Rutin was used as standard compound for the quantification of total flavonoid. Results were expressed as milligram of rutin equivalents per gram of dry cells. Data were expressed as means ± SD for three replications.
Enzyme activity analysis
Suspension culture cells were harvested for evaluation of the catalase (CAT) activity level as described by Georgiew et al [23]. The decomposition of H2O2 was followed by measuring the decrease in absorbance at 240 nm. One unit of CAT is the amount that decomposes 1 μmol of H2O2 for 1 min at pH 7.0 and 25°C. Protein was estimated by the procedure of Lowry et al. [24], using crystalline bovine albumin as standard. Phenylalanine ammonia lyase (PAL) was extracted from fresh H. perforatum cells with borate buffer (pH 8.8). The cells were ground in the buffer (0.15 g/mL) for 2 min with a pestle and mortar on ice and then centrifuged at 10,000 rpm and 4°C for 20 min to obtain a solid-free extract. The PAL activity was determined based on the conversion of L-phenylalanine to cinnamic acid as described by Wu and Lin [21].
Conclusions
Plant cell suspension culture is an efficient alternative method for the production of useful biochemicals. In this work, MeJA-elicited cell suspension cultures of H. perforatum enhanced the production of flavonoids through the down-regulation of the CAT activity and up-regulation of the PAL activity. The flavonoid production reached 280 mg/L after the optimal elicitation conditions, which was 2.7-fold of the control cultures. These results would be useful for the hyperproduction of flavonoids from H. perforatum and would be useful for the production of valuable compounds from other plant cell cultures.
Abbreviations
CAT:

Catalase
DW:

Dry cell weight
FW:

Fresh cell weight
MeJA:

Methyl jasmonate
PAL:

Phenylalanine ammonia lyase
SA:

Salicylic acid
Declarations
Acknowledgements
This work was supported by the National Special Fund for State Key Laboratory of Bioreactor Engineering (2060204) and the Fundamental Research Funds for the Central Universities (WF1113010).
Authors' Affiliations
(1)
State Key Laboratory of Bioreactor Engineering, Department of Bioengineering, East China University of Science and Technology, Shanghai, China
(2)
Shanghai Collaborative Innovation Center for Biomanufacturing Technology, Shanghai, People's Republic of China
(3)
School of Life Science and Technology, Tongji University, Shanghai, China
Copyright
© Wang et al.; licensee Springer. 2015
This is an Open Access article distributed under the terms of the Creative Commons Attribution License (http://creativecommons.org/licenses/by/4.0), which permits unrestricted use, distribution, and reproduction in any medium, provided the original work is properly credited.