High solid saccharification using mild alkali-pretreated rice straw by hyper-cellulolytic fungal strain
Bioresources and Bioprocessing
2015
2:46
Received: 26 September 2015
Accepted: 23 November 2015
Published: 8 December 2015
Abstract
Background
The aim of this study was to use traditional mutagenesis to generate hyper-cellulolytic mutants with emphasis on stable, non-spore formers, shorter enzyme producing times and higher saccharification efficiency at high solid loadings. An in-house isolated strain of Aspergillus terreus (At) was identified, fingerprinted and mutated. A sequential process of mutation followed by stringent selection generated mutant At 9 , which produced optimal cellulase at day 4 instead of day 7, was non-spore former with high stability and grew on a lower pH than parental strain. At 9 cellulases were used successfully at high solid loads [up to 25 % (w/v)] in a modified system at 50 °C with reduced hydrolysis times compared to parent strain.
Conclusion
In current work ultra violet (UV) mutagenesis and intelligent screening design combined with growth on a cheap substrate for enzyme production was demonstrated. With this work we present a single organism enzyme system with substantially lower production time and decreased saccharification time at high solid loads.
Keywords
Mutagenesis Aspergillus terreus Non-spore formerHigh solid saccharification
Background
The world has finally woken up to the stark reality of the impeding energy crisis. The thriving economies of developed nations and the potential economics of the developing nations both depend heavily on fossil fuel based energy. The energy crisis is being taken head on by exploiting the potential of various available energy sources around us which can be further converted to energy denser and user friendly sources of fuel. One approach is the use of lignocellulosic wastes instead of food grains as carbon source for ethanol production.
Lignocellulose is one of the most abundant materials available on earth, with immense potential as a substrate for energy generation. It consists of carbohydrate polymers (cellulose and hemicellulose) and lignin is a highly recalcitrant structure and difficult to deconstruct (Krassing 1992) and makes enzymatic hydrolysis a daunting task. There are various enzymes that act synergistically to degrade the complex cellulose polymer. Three sets of enzymes are believed to be the major players in the hydrolysis step: cellobiohydrolases, endoglucanases and β-glucosidases. Endoglucanases (EC 3.2.1.4) randomly cleave the β-1, 4 glycosidic linkages of cellulose; cellobiohydrolases (EC 3.2.1.91) attack cellulose chain ends to produce the constitutive unit of cellulose, cellobiose (a dimer of glucose linked by a β-1, 4 glycosidic bond); and β-glucosidases (EC 3.2.1.21) hydrolyse cellobiose into two molecules of glucose (Marie et al. 2010). It has been observed that efficient individual cellulase activities do not necessarily translate into good hydrolysis on a substrate like lignocellulosic waste, e.g. rice straw or wheat straw. This may be attributed to various other yet un-characterized or partially characterized molecules that help the cellulases to better adhere and attack the complex mesh of lignin, cellulose and hemi-cellulose. Recent work in the field has pointed towards additional chaperon proteins/molecules like Expansion and Swollen (Yennawar et al. 2006; Nevalainen et al. 1980). It is feasible that these swollen in like activities are numerous in cellulolytic fungus and may play a major role in improving the hydrolysis by the major cellulases. Thus, it can be argued that many still unknown proteins may be expressed in substantial amounts when grown on the right complex cellulose source, which may in turn make the final hydrolysis step more efficient. A highly purified form of cellulases might degrade a complex lignocllulosic waste like rice straw less efficiently than a crude preparation of the same starting material. Commercial enzyme production involves a mixture of cellulases/hemicellulases from more than one source. Currently, production of cellulases commercially is mostly using a combination of enzymes from Trichoderma reesei and Aspergillus niger (Gao et al. 2008). The Trichoderma system of cellulases lacks efficient levels of cellobiase thus necessitating the addition of an external source of cellobiase from the Aspergillus system adding to the overall cost of enzyme production. To be successful, cellulosic ethanol has to compete with gasoline and first-generation biofuels for cost and ease of production. One approach is to modify/mutate the cellulolytic organism to enable optimal cellulase production. Many strains have been genetically modified/mutagenized in an attempt to cut the cost of enzyme production (Mandels and Andreotti 1978; Saloheimo et al. 2002; Durand et al. 1988; Szengyel et al. 2000) but a commercially viable strain is still not available and the stability of these mutants has been questionable.
High-solids enzymatic hydrolysis is defined as hydrolysis at no free initial liquid leading to concentrated sugar syrups, which in turn give higher concentrations of ethanol in fermentation broth substantially reducing the distillation cost (Wingren et al. 2003). As solid loadings approach 15 % (w/v), the liquid fraction becomes fully absorbed into the biomass leaving little free water. With lower amounts of free water, the apparent viscosity of the mixture increases, and consequently mixing and handling of material become more difficult. Other challenges specific to high-solid enzymatic hydrolysis include long hydrolysis times. Thus it is very important to address these issues for better hydrolysis.
A strain of At that grows efficiently on rice straw for cellulase production was isolated, identified and characterized. Further, traditional mutagenesis with intelligent screening/selection design was performed to isolate hyper-cellulolytic mutants. The single culture enzyme system was then tested at high solid loads in a modified system.
Results and discussion
Isolation and identification of the cellulose degrading fungus
Screening of cellulolytic microorganisms was carried out from soil, compost and degraded rice straw as described earlier (Narra et al.
2012
,
2014
). The ITS regions are located between the 18S and 28S rRNA genes and the rRNA gene for 5.8S RNA separates the two ITS regions. Ribosomal genes have regions of variability and this sequence variation of ITS regions has led to their use in phylogenic studies of many organisms (White et al.
1990
). Using consensus primers, the ~1200 bp; 18S rRNA, ITS1, 5.8S rRNA, ITS2 and 28S rRNA gene fragment was amplified using high-fidelity PCR Polymerase (Fig.
1
). The amplicon was cloned and sequenced. Based on nucleotides homology and phylogenetic analysis the newly isolated fungus was identified as
Aspergillus terreus
(NCBI GenBank Accession Number: KF971363).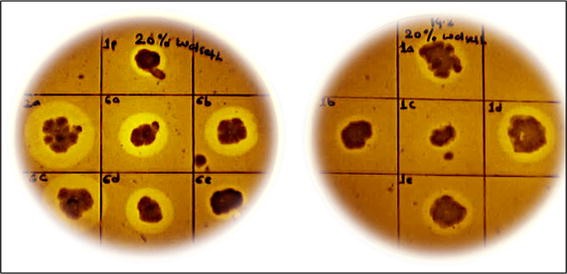 Depending on the organism, regions other than the ITS (gene specific; i.e. EF-1 for Fusarium) may be required to confirm identification (Hansen et al. 2008). PCR–RFLP has been used by researchers to differentiate between Aspergillus species (Merhendi et al. 2007). Amplification using ITS1 and ITS4 conserved region primers gave an amplicon of 607 bp size which when digested with Hbl1 resulted in three fragments of 96, 179 and 332 bp corresponding to two restriction sites at 333 and 512 bp for Aspergillus terreus. The results are in agreement with that of the work done by (Merhendi et al. 2007).
Generation, enrichment and screening of mutant
For UV mutagenesis the 99 % lethality dose for the parental stain was determined as 30 min at a distance of 54 cm. Using this combination of distance and time a series of UV treatments were performed. Hopwood et al. (
1985
) showed that mutation frequency is higher when the survival rates from UV mutation are between 10 and 0.1 %.Since the aim of this work was to increase the innate capability of the strain to secrete/produce more cellulases, 2-DG, an antimetabolite, was used to screen for catabolite repression-resistant mutants (Montenecourt and Eveleigh
1975
). In the presence of 2-DG in the medium only those spores with deregulated or compromised end-product inhibition control would form mycelia and thus can be separated from spores. The addition of sorbose (0.4 %) restricts the growth of mycelia facilitating more number of mutant screening per plate (Chand et al.
2005
). The further selection and screening on 20 % (w/v) walseth agar followed by 30 % (w/v) walseth ensured selection of good producers at high substrate concentrations. Screened mutant strains were sub-cultured three–four times on both concentrations of walseth plates to check for reproducibility and stability. After repeated cycles of mutagenesis and selection, mutant
At
9
was generated. Two such screening plates are shown in Fig.
2
. The mutant gave a larger and clearer zone on walseth agar plates as compared to the parent strain and was also non-spore former. The mutant strain was taken for optimization of media/growth parameters.

Optimization of growth parameters for mutant strains
Optimization of various growth and production parameters for At 9 was performed since its optimal requirements may be different than the parent strain. In experiments for optimal temperature, though a range of temperature were tested, it was observed that just like the parental strain At 9 produced optimal cellulases at 45 °C (data not shown). Thus the selection criteria for mutants were set at 45oC. The mutant also showed a preference to a slightly more acidic pH (pH 4) as compared to the parent. Many fungi acidify lignocellulosic substrates as they grow in them to pH levels that are probably at least partially inhibitory to further growth (Zadrazi and Brunnert 1982). Thus, preference for lower pH may be advantageous to the mutant; also lower pH would mean fewer chances of external contaminants. Inoculum size in terms of number of initial spores/mycelial balls added to the system was found to be 1 mL 5 g−1 of substrate for At 9. The parent strain had day 7 as its maximum cellulase production, while At 9 showed its maximum potential on day 4, thus significantly cutting the production time.
The wild strain of
At
performed to its maximum potential at 45 °C temperature, pH 5.5, moisture level 1:7, incubation period 7 days and inoculum size of 1 × 10
5
spores mL
−1
. Post optimization
At
9
preferred more acidic pH (pH 4) than parent and took 3 days less for cellulase production. Moreover, the enzymes from
At
9
had a higher specific activity than the parental strain thus adding to benefits during downstream processing. Table
1
lists the enzyme activity of the mutant post optimization.
Table 1
Specific activity of the mutant strain after final optimization
S. no.

Strain

Enzyme activity (Umg−1)

Endoglucanase

Fold increase

β-Glucosidase

Fold increase

FP

Fold increase

1

Control

2.50 ± 0.91

–

0.76 ± 0.94

–

0.15 ± 0.82

–

2

At 9

4.45 ± 0.84

1.78

3.39 ± 0.79

4.46

0.26 ± 0.97

1.73
Composition of mild alkali pretreated rice straw
Untreated rice straw contained 40.33 ± 1.53 % cellulose; 28.47 ± 0.58 % hemicellulose and 6.97 ± 0.76 % lignin. After pre-treatment, the solid biomass of rice straw contained 59.87 ± 0.68 % cellulose; 22.17 ± 1.19 % hemicellulose and 3.17 ± 0.55 % lignin. The alkaline pre-treatment step led to reduction in lignin (57.96 %) content and increase in cellulose content (48.45 %) in the pre-treated biomass feedstock.
Saccharification studies at high solid loads using parent and mutant enzymes
A substrate load up to 25 % could be sustained by the system without a drastic reduction in the saccharification efficiency. Parent strain produced 547 mg g−1 substrate reducing sugars in 40 h, whereas mutant strain produced almost the same amount of reducing sugars (540 mg g−1 substrate) in 32 h with a saccharification efficiency of 60.03 and 59.29 %. This efficiency was quite comparable with the efficiency of system (64.09 %) at lower substrate loads (2.5 % w/v). When 30 % load of substrate was tested the efficiency of the system fell to 41.59 and 41.84 % at 9 FPU g−1indicating that the efficiency of conversion decreased at higher substrate concentration. An increase in the enzymatic load from 9 FPU g−1substrate to 15 FPU did not lead to any increase in conversion efficiency (data not shown).
Thus an improvement in the process was obtained by reducing the time and cost of enzyme production (optimal production at day 4 instead of day 7), downstream processing (mutant produced more concentrated enzymes) and shorter saccharification times (32 vs 40 h) by generating the mutant strain At 9. Saritha et al. (2012) reported that at 10 % solid load pre-treated rice straw yielded a saccharification efficiency of 52.69 % after 72 h. Seung et al. (2013) found that at 15 % (w/v) solid loading of popping pre-treated rice straw yielded a sugar recovery of 0.567 g g−1 substrate in 48 h. Pretreated rice straw at low substrate load yielded 26.3 g L−1 and 686 mg g−1 substrate of reducing sugars (Sukumaran et al. 2009; Jeya et al. 2009).
Conclusion
In the current work, UV mutagenesis and intelligent screening design combined with growth on a cheap substrate for enzyme production was demonstrated. The mutational scheme generated an efficient cellulase producer, producing highly concentrated enzymes in shorter times. The mutant enzymes worked on higher solid loads with greater efficiency in terms of saccharification time. To the best of author's knowledge this is first report on high solid saccharification on rice straw without external supplementation of β-glucosidase.
Declarations
Authors' contributions
GD and MN designed and performed the experiments; ARS and DM supervised the complete study, GD and MN wrote the manuscript and interpreted the data. All authors read and approved the final manuscript.
Acknowledgements
The authors are thankful to the Director, Sardar Patel Renewable Energy Research Institute (SPRERI), Vallabh Vidyanagar, Gujarat, for providing facilities and resources to carry out this research at SPRERI. The financial support from Department of Biotechnology (DBT), Government of India, is highly acknowledged.
Competing interests
The authors declare that they have no competing interests.
Open AccessThis article is distributed under the terms of the Creative Commons Attribution 4.0 International License (http://creativecommons.org/licenses/by/4.0/), which permits unrestricted use, distribution, and reproduction in any medium, provided you give appropriate credit to the original author(s) and the source, provide a link to the Creative Commons license, and indicate if changes were made.
Authors' Affiliations
(1)
Bio-conversion Technology Division, Sardar Patel Renewable Energy Research Institute, Vallabh Vidyanagar, India
(2)
BRD School of Biosciences, Sardar Patel University, Vallabh Vidyanagar, India