Enhancing total fatty acids and arachidonic acid production by the red microalgae Porphyridium purpureum
Bioresources and Bioprocessing
2016
3:33
Received: 14 December 2015
Accepted: 15 June 2016
Published: 23 June 2016
Abstract
Objectives
This study investigated the effect of aeration rate and light intensity on biomass production and total fatty acids (TFA) accumulation by Porphyridium purpureum. The red microalgae is also known to accumulate considerable amount of arachidonic acid (ARA).
Results
In artificial seawater medium, the highest yield of TFA (473.44 mg/L) was obtained with the aeration rate of 3 L/min and light intensity of 165 µmol/m2s, whilst the highest yield of ARA (115.47 mg/L) was achieved with the aeration rate of 3 L/min and light intensity of 110 µmol/m2s. It was found that higher aeration rate led to more biomass and TFA/ARA production. However, higher light intensity could contribute to biomass accumulation, but it was adverse for TFA and ARA biosynthesis.
Conclusion
By optimizing two operating factors (i.e., light intensity and aeration rate), TFA and ARA production by
P. purpureum
was significantly improved. This research provides a potential alternative means for producing ARA.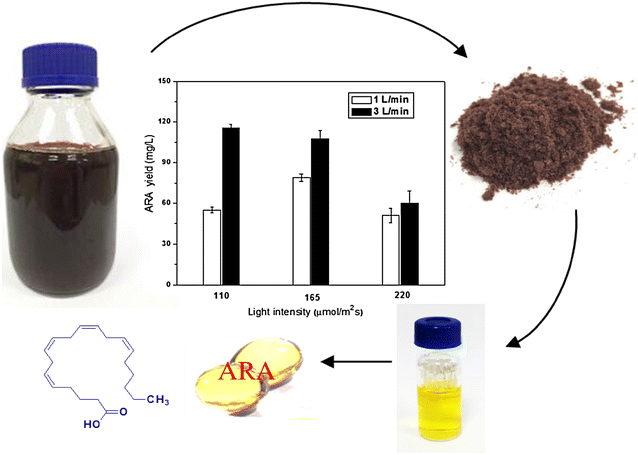 Keywords
Microalgae Porphyridium purpureum Aeration rateLight intensityTotal fatty acidsArachidonic acid
Background
Microalgae, exhibiting promising prospect for nourishment, medicine industry, biofuels production, and many other applications, have attracted global attention in recent decades (Fuentes et al. 2000; Ginzberg et al. 2000; Huo et al. 1997). Particularly, great potential of valuable polyunsaturated fatty acids (PUFAs) produced by photoautotrophic microalgae for large-scale microalgal industries have been found (Thompson 1996; Mendoza et al. 1999; Sukenik 1999). Among PUFAs, arachidonic acid (ARA) and eicosapentaenoic acid (EPA) are two of the most valuable extracts of microalgae. ARA is an important omega-6 polyunsaturated fatty acid (n-6 PUFA) that has been reported as one of the major fatty acids of brain cell phospholipids and a precursor of prostaglandins and leukotrienes (Koletzko and Braun 1991; Kromhout et al. 1985). EPA has been demonstrated effective for preventing and curing thrombosis and arteriosclerosis (Dyerberg 1986; De Bravo et al. 1991), and inhibiting the growth of a human lung carcinoma (Shinmen et al. 1989).
ARA is mainly produced by the microorganism Mortierella fungi and the heterologous expression of the ARA by Escherichia coli (Higashiyama et al. 2002; Bennett et al. 1987; Barclay et al. 1994) due to the fact that Mortierella fungi is more economically feasible, and E. coli is a good gene engineering carrier model and easy to be modified. Microalgae are photosynthetic, thus making them safer and environmentally friendly alternative source for ARA production. Furthermore, challenges, such as odor taste, in the traditional PUFA manufacturing techniques can be obviated using microalgae as raw material for PUFA production (Muradyan et al. 2004). Moreover, microalgae are totally natural compared to E. coli, and they possess other beneficial properties, such as non-toxicity, and less subjected to contamination and environmental fluctuations. In addition, microalgae could also produce other valuable products, such as proteins, pigments, and polysaccharides. In addition, the microalgae residue could be used in many fields, such as health care products and fodder. Therefore, the production of fatty acids by the microalgae is considered more advantageous.
Recently, much effort has been focused on controlling CO2 flow rate to achieve higher fatty acids production considering the potential applications of algae in biodiesel industry (Tang et al. 2011; Cohen et al. 1988). However, although light intensity has been found to improve the fatty acids accumulation in microalgae, few reports have been published on the combined effect of light intensity and aeration rate on total fatty acids (TFA) and ARA productivity by microalgae.
The red microalgae Porphyridium purpureum is one of the very few microalgae species that could accumulate high concentrations of long-chain PUFAs, containing up to 36 % ARA and 17 % EPA of TFA (Ahern et al. 1983; Nichols and Appleby 1969; Jones et al. 1963). Previous efforts in enhancing ARA production by these microalgae usually established at the expense of growth limitation under sub-optimal conditions (Ahern et al. 1983; Nichols and Appleby 1969). The aim of the present study is to establish an efficient, economical, and environmental friendly method for ARA production by P. purpureum. The P. purpureum was cultivated in a simple, open, low-energy, organic carbon, and nitrogen sources free system for the fatty acids production, and the influence of aeration rate and light intensity on the yields of TFA and ARA production is investigated and presented.
Conclusion
This work revealed that high aeration rate with moderate light intensity is promotive factor for biomass and ARA production by P. purpureum; and this provide a promising technical support for the production of ARA. However, additional investigations are needed, including studies on the lipid profile, and highlight tolerance mechanisms by P. purpureum, that may further enhance the production of valuable PUFA by this algae. Furthermore, P. purpureum produces not only fatty acids, but also several other high value biochemicals, such as polysaccharides and phycoerythrin. Comprehensive applications of microalgae biomass, combining several targeted products or services, would be the mainstream of microalgae biotechnology-based industries.
Abbreviations
PUFA:

polyunsaturated fatty acid
ARA:

arachidonic acid
EPA:

eicosapentaenoic acid
TFA:

total fatty acid
DW:

dry weight
OD:

optical density
FAME:

fatty acid methyl ester
UFA:

unsaturated fatty acid
DBI:

double bond index
EI:

electron impact ionization
Declarations
Authors' contributions
GMS and XHZ designed the experiments, GMS, JYC, and XYG performed the experiments, GMS drafted the manuscript, ZL, XHZ, YS, and YHL contributed to the discussion, and ZL and XHZ gave important feedback on draft versions of several sections and improved the manuscript by critical revision. XHZ and LL supervised the research and wrote the final version of the paper. All authors read and approved the final manuscript.
Acknowledgements
This work was supported by the Special Fund for Fujian Ocean High-Tech Industry Development (No. 2013015), China, and Research Program from the Science and Technology Bureau of Xiamen City in China (3502Z20131016, 3502Z20151254). The authors acknowledge Mr. Theoneste Ndikubwimana in the Department of Chemical and Biochemical Engineering, Xiamen University, for the language refining.
Competing interests
The authors declare that they have no competing interests.
Open AccessThis article is distributed under the terms of the Creative Commons Attribution 4.0 International License (http://creativecommons.org/licenses/by/4.0/), which permits unrestricted use, distribution, and reproduction in any medium, provided you give appropriate credit to the original author(s) and the source, provide a link to the Creative Commons license, and indicate if changes were made.
Authors' Affiliations
(1)
College of Energy, Xiamen University, Xiamen, China
(2)
Department of Chemical and Biochemical Engineering, College of Chemistry and Chemical Engineering, Xiamen University, Xiamen, China