Microbial fuel cell: a green approach for the utilization of waste for the generation of bioelectricity
Bioresources and Bioprocessing
2016
3:38
Received: 30 March 2016
Accepted: 3 August 2016
Published: 17 August 2016
Abstract
Today we are witnessing a global energy crisis due to huge energy demands and limited resources. Non-renewable energy sources are depleting and renewable energy sources are not properly utilized. There is an immediate need for search of alternate routes for energy generation. Microbial fuel cell (MFC) technology, which uses microorganisms to transform chemical energy of organic compounds into electricity is considered a promising alternative. Extensive studies have corroborated new insights into MFC, which show that a wide array of carbon sources including wastes can be employed using a variety of microbes. Consequently, microbial transformation of wastes using novel bioremediation strategies such as MFC for energy generation is considered as an efficient and environmentally benign approach. This paper deals with critical review of different classes of xenobiotics and wastes that can be employed for bioenergy generation, microorganisms involved, power output, major benefits, challenges and pit holes of MFC technology.
Keywords
Microbial fuel cell (MFC)ElectricityTechnologyWastePollutantXenobiotic
Use of waste/xenobiotics for electricity generation
The functioning and efficiency of MFC largely depends upon the type of materials employed for metabolism by microbes (Logan and Regan 2006a, b). Many workers have reported utilization of simple and complex organic/inorganic sources present in wastewaters from different origin as a substrate for electricity production. The use of wastewater as a source of substrate has a dual advantage; first, the electricity produced is cheap, and second, it leads treatment of wastewater. Extensive research has shown that these complex substrates such as agro wastes are oxidized by different group of microorganisms and cause generation of electricity. In this section, we have discussed some uncommon wastes and pollutants, which are utilized in MFC for electricity generation.
Commercialization of MFC
Success of any technology depends upon its commercialization when it is marketed in huge amounts and used by a large number of people. Since MFC deals with production of electricity by employing waste materials, its commercialization will offer several advantages such as:
1.

Production of low-cost electricity from waste materials.

2.

The electricity will be produced all round the year since waste and xenobiotics are readily available.

3.

People would be able to produce electricity in their homes.

4.

This technology will be helpful for the people living in poor countries such as Africa where huge infrastructure required for set of energy production plants is not available.

5.

MFC will lead to clean up of wastes and xenobiotics. So, it can be used as an alternate method for bioremediation.
The output of MFC depends upon a number of parameters such as its configuration, type of substrate, its concentration, microorganism used, catalyst, materials used in cathode and anode, suitable membrane, which play an important role in its performance (Logan and Regan 2006a, b). Many reports are available of scaling up of MFC from few ml to several thousand liters. The results of these studies have demonstrated that a major drawback in commercialization of MFC is that scaling up causes decreased power output. These studies have shown that the factor which affects power output in MFC during scaling up is the distance between electrodes. As the size of electrodes is increased during scaling up, the distance between electrodes is not increased to same extent because it will make MFC more bulkier. This is the reason why power output is decreased. Another factor which hinders its scaling up is the cost of electrodes. It should be sufficiently low. However, in reality, the electrodes are very costly because these are not produced industrially and also the material with which they are made is very costly. The membranes used in MFC are usually made up of nylon which is costly. Another important factor is the substrate; in laboratory conditions, when MFC is run on pure substrates the power output is very high but when it is run on waste materials its power output is diminished dramatically. This is due to the fact that microorganisms are not able to metabolize waste materials as efficiently as pure carbon sources. These are the major factors which hinder commercialization of this technology.
Major pit holes of the technology
MFC being a promising technology for power generation by employing waste material suffers from many challenges which hinder its commercialization. Some of the important pit holes of this technology are as follows:
1.

The power density obtained with xenobiotics and wastes is very low as compared to pure carbon sources such as glucose. This hinders its applicability in waste management and generation of electricity for day to day purposes.

2.

Pure carbon sources cannot be routinely employed for electricity generation because they are costly as compared to wastes.

3.

The material used in cathode/anode and membrane during scaling up of MFC is costly, which hinders its commercialization.
Future prospects
MFC is a promising technology for generation of electricity from organic substances, especially from organic waste of different origin. However, there are certain drawbacks, which has hindered to make it more applicable when practical applications are concerned. The major drawback of MFC technology is the low power density; this can be rectified by either isolation of potent microorganisms that can efficiently transfer electrons to anode or by generating engineered strains through recombinant DNA technology that show greater electron transfer rates. Many reports have confirmed that rather than pure cultures, consortium of many bacteria show improved electron transfer rates to the anode. Many bacterial strains have been shown to produce mediators which efficiently transfer electrons to the anode. Identification of new mediators can also increase the performance of MFC technology. Another drawback of MFC is the limited surface area of the electrodes where microorganisms adhere. Extensive studies have been performed to identify methods that enhance the performance of MFC reactors and have resulted in the designing of more efficient laboratory-scale MFCs. These technologies include the use of air cathodes (Liu and Logan
2004
), stacked reactors (Aelterman et al.
2006
) and cloth electrode assemblies (Fan et al.
2007
). Among these, the use of air cathodes (Liu and Logan
2004
) is very effective since it helps in efficient use of oxygen from air and avoids the need for aerating the water or using chemical catholytes such as ferricyanide that must be regenerated. Air cathodes have been optimized for the use in MFCs (Cheng et al.
2006a
,
b
), and the effects of shape and position on MFC performances have been evaluated using different reactor designs (Zuo et al.
2007
; Fan et al.
2007
). These efforts have resulted in highly efficient small-volume laboratory MFCs (~20 ml in anode volume) that produced electrical outputs of over 1000 W m
3
(Fan et al.
2007
). However, it is still a challenge for MFC researchers to construct large-scale MFCs that have both high power production and stable performance (Zuo et al.
2007
). Liu et al. (
2008
) have recently reported the construction of a 500-ml MFC reactor with the maximum power density of 20 W m
3
(Fig.
4
).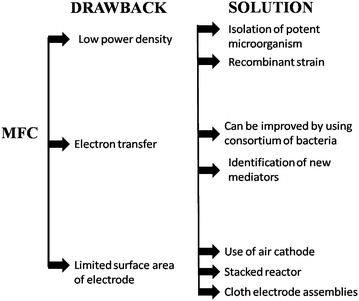 Another drawback of this technology is in treatment of wastewaters and scaling up of MFC. Scaling up of MFCs for large-scale applications and for improving the overall performance of MFC technology will help in treatment of wastewater, which is present in large quantities.
Conclusions
MFC is a state-of-the-art technology for production of electricity from metabolism of microorganisms. In this review, we have dealt with major wastes and xenobiotics, such as hexavalent chromium, agrowastes, nitrates and azo dyes. Some of them such as hexavalent chromium and azo dyes are very toxic to the ecosystem and cause death of organisms. In MFC, they are used for electricity production and also they are transformed into less toxic metabolites, which demonstrates its another potential use in waste management and pollution control. Till now, a large number of microbes and a waste variety of substrates (including waste and xenobiotics) have been used to produce electricity. However, a major drawback of this technology is that the power output is very low and scaling up leads to a decrease in power output. This is the main reason why this technology has yet not been commercialized. So, a lot more work is required so that this technology becomes efficient, applicable and widely accepted.
Declarations
Authors' contributions
PV planned the review. VC carried out the literature survey. PV and VC prepared the MS. Both authors read and approved the final manuscript.
Acknowledgements
PV is thankful to DBT for providing financial support (Grant No. BT/304/NE/TBP/2012).
Competing interests
The authors declare that they have no competing interests.
Open AccessThis article is distributed under the terms of the Creative Commons Attribution 4.0 International License (http://creativecommons.org/licenses/by/4.0/), which permits unrestricted use, distribution, and reproduction in any medium, provided you give appropriate credit to the original author(s) and the source, provide a link to the Creative Commons license, and indicate if changes were made.
Authors' Affiliations
(1)
School of Biotechnology, Banaras Hindu University, Varanasi, India
(2)
Department of Microbiology, Central University of Rajasthan, Kishangarh, Ajmer, India