Biofabrication of gold nanoparticles by Shewanella species
Bioresources and Bioprocessing
2017
4:50
Received: 24 August 2017
Accepted: 27 November 2017
Published: 1 December 2017
Abstract
Background
Shewanella oneidensis MR-1 (MR-1) and Shewanella xiamenensis BC01 (SXM) are facultative anaerobic bacteria that exhibit outstanding performance in the dissimilatory reduction of metal ions. Shewanella species have been reported to produce metal nanoparticles, but the mechanism and optimization are still not extensively studied and clearly understood. Herein, the effects of pH, biomass, gold ion concentration, and photoinduction are evaluated to optimize gold nanoparticle (Au@NP) production by Shewanella.
Results
The highest amount of Au@NPs produced by SXM and MR-1 were 108 and 62 ppm, respectively, at pH 5 when 2.4 g/L biomass was immersed in 300 ppm gold ions and 50 mM lactate under a light intensity of 100 µmol/m2/s. By scanning election microscopy and zeta potential analysis, the proposed mechanism of Au@NP formation was that Shewanella used lactate as electron donors for the Mtr pathway, stimulated by photosensitive proteins resulting in the nucleation of NPs on the cell membrane. Besides, the resting cells retained the ability for biofabrication of nanoparticles for nearly 25 days.
Conclusions
The optimal conditions evaluated for Au@NPs production by
Shewanella
were biomass, pH, ions concentration, and photoinduction. To the best of our knowledge, this is the first attempt to explore a two-step mechanism for Au@NPs formation in
Shewanella
. First, the HAuCl
4
solution reacted with sodium lactate to form metallic gold ions. Second, the metallic gold ions were adsorbed onto the outer membrane of cell, and the formation of Au@NPs at the surface was triggered.
Shewanella
-based Au@NPs production could be a potential ecofriendly solution for the recovery of Au ions from secondary resources like industrial waste.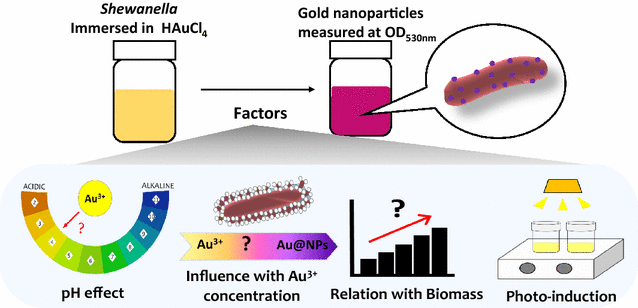 Keywords
Shewanella Gold nanoparticleResting cellOptimizationPhotoinduction
Background
Because of global modernization and industrialization, pollution caused by the release of heavy metals into the environment has become a critical issue, and thus concerns surrounding the recovery of such heavy metals have been rising (Dodson et al. 2015). Among all metals commonly seen in wastes, gold is a noble metal and can be used in luxury jewelry, electronics, and medical applications because of its unique physical and chemical properties such as high biocompatibility and long-term stability (Ramesh et al. 2008; Spitzer and Bertazzoli 2004). Gold ions fabricated in nanoscale (gold nanoparticles or Au@NPs) with shape-dependent and optoelectronic properties have broadly applicable physiochemical characteristics and biological functions, and are thus of great interest to scientists (Klaus et al. 2001; Shedbalkar et al. 2014; Suresh et al. 2011).
Many traditional methods of gold recovery, such as cyanide leaching, precipitation and filtration, and electrochemical treatments, have been reported (Mata et al. 2009). However, these methods are challenged by restricted selectivity and large amounts of toxic chemicals involved in the process resulting in secondary pollution (He et al. 2015). Compared with traditional methods, biological methods have great appeal because of their simplicity, elimination of toxic chemicals (Mishra et al. 2014), and capability of controlling nanoparticle size (Bai et al. 2009; Sathishkumar et al. 2010a). Over the last decade, adsorption and reduction of heavy metals by microorganisms including bacteria, yeast, and fungi have been reported (Farooq et al. 2010; Lo et al. 2014; Tan et al. 2017). The biofabrication of nanoparticles with optimal conditions, such as pH, incubation time, and metal ion concentration (Narayanan and Sakthivel 2010) also showed high potential in commercial applications and large-scale production.
Shewanella species, which are dissimilatory metal-reducing bacteria widely distributed in sediment or seawater, grow optimally between 25 and 40 °C and can reduce metal ions via a special electron pathway called the Mtr pathway (Fredrickson et al. 2008; Shi et al. 2012; Wang et al. 2017). Shewanella oneidensis MR-1, isolated from Oneida Lake, New York (Myers and Nealson 1988), has been reported to reduce Au3+ into discrete spherical Au@NPs that are well dispersed with homogeneous sizes. The nanoparticle sizes of gold produced by MR-1 were in the range of 2–50 nm and had high potential for use in biomaterials (Suresh et al. 2011). In the MR-1 strain, the outer membrane c-type cytochromes, MtrC and OmcA, were considered as important proteins for metal reduction (Wu et al. 2013a). However, the MR-1 wild type and its mutants omcA and mtrC were still capable of reducing Au3+ into Au@NPs (Wu et al. 2013b), while the particle size of the extracellular nanoparticles were decreased mtrC and omcA mutants (Ng et al. 2013). On the other hand, Shewanella xiamenensis, which is isolated from coastal sediment collected off Xiamen, China, is a close-related strain to S. oneidensis based on phylogenetic tree analysis by 16S rRNA and gyrase gene (Huang et al. 2010). It has also been reported to reduce mediators from the medium to nanoparticles (Ng et al. 2015a) and also showed resistance to different kinds of metal ions (Ng et al. 2015b).
The mechanism and conditional optimization of Au@NP production by Shewanella have never been reported. The aim of this study is to explore the mechanism and to accomplish optimization by determining the effects of pH, biomass, and gold concentration on Au@NP production by S. oneidensis MR-1 and S. xiamenensis BC01 (SXM). Finally, the resting cell activity on the biofabrication of Au@NPs and silver nanoparticles (Ag@NPs) is also examined.
Methods
Chemicals
For the reduction of gold and silver ions, chloroauric acid (HAuCl4·3H2O) was purchased from Alfa Aesar, silver nitrate (AgNO3) was purchased from Sigma (209139), and sodium lactate (50% w/w) was purchased from Showa (G1510E). For scanning electron microscopy, formvar solution was purchased from Sigma (09823), and tert-butanol was purchased from Shimakyu Chemical Co. Ltd.
Bacteria culture
Both S. xiamenensis BC01 (SXM) and S. oneidensis MR-1 were grown in Luria–Bertani broth containing yeast extract (5 g/L), sodium chloride (10 g/L), and tryptone (10 g/L). The cells were maintained at 4 °C on LB plates, and a single colony was inoculated into 2 mL of LB medium and cultured at 30 °C and 150 rpm for 12 h for preculture. Then, 1% (v/v) of the precultured cells was transferred into a 50-mL flask containing 10 mL of LB medium and grown aerobically at 30 °C and 150 rpm for another 12 h.
Biofabrication and characterization of nanoparticles
Cells were collected by centrifugation at 8000×g for 5 min and washed twice with 0.5 mL of distilled water to obtain a final biomass concentration of 2.4 g/L. The precipitate was resuspend in 50 mM sodium lactate as the electron donor with 0.5 mL of 300 ppm Au3+ or 100 ppm Ag+ solution. The samples were incubated at room temperature (approximately 30 °C) with a light intensity of 100 µmol/m2/s for 24 h.
UV–vis spectroscopy analysis of nanoparticle formation
The nanoparticles were analyzed using UV–vis spectroscopy (Molecular Devices, SpectraMax 340PC384, USA) to measure the surface plasmon resonance at 530 nm for Au@NPs and 410 nm for Ag@NPs. The color of the sample changed from pale yellow to purple to indicate the formation of Au@NPs (Kumar et al. 2008). For Ag@NPs, the color changed from pale yellow to orange.
Scanning electron microscopy (SEM)
The samples were fixed in 2.5% (w/v) glutaraldehyde for 2 h and washed three times with phosphate buffer (0.1 M, pH 7.4). The sample (100 μL) was carefully dropped onto a formvar-coated silicon chip for 1 h and washed three times with phosphate buffer. The cells were dehydrated in a series of ethanol washes with increasing ethanol concentration (30, 50, 70, and 100%). After three final washes in 100% ethanol, the samples were immersed in tert-butanol and dried by lyophilization (KINGMECH, FD3-12P, Taiwan) for 0.5 h. Dehydrated samples were analyzed using SEM (JEOL JSM-6700F, Japan).
Inductively coupled plasma-optical emission spectrometry (ICP-OES)
Cells were centrifuged at 10,000 rpm for 10 min, and the supernatant was filtered using a 0.22-µm filter (Millipore, USA). Au3+ concentration was measured using ICP-OES (ULTIMA 2000, Japan). A standard solution containing 1000 ppm Au3+ (High-Purity Standards, USA) or 200 ppm Ag+ was used as the starting solution and diluted in the range from 0 to 100 ppm for ICP-OES analysis.
Zeta potential
Samples for zeta potential measurement were prepared as follows. Cells were added into 1 mL of distilled water in Falcon tubes with a final biomass concentration of 1.2 g/L. Different samples with a volume of 750 µL were introduced into cuvettes, and the zeta potential was measured (Malvern, Zetasizer Nano ZS, UK).
Preparation of resting cells
Strains were grown aerobically at 30 °C and 150 rpm in 250-mL flasks containing 50 mL of Luria–Bertani medium for 12 h. Cells were collected by centrifugation at 8000×g for 10 min and washed twice by distilled water. The precipitate was resuspended by 1 mL of distilled water, and the sample was quickly frozen in liquid nitrogen. The resting cells were generated by overnight lyophilization into a powder and stored at − 20 °C for long-term storage.
Conclusions
Shewanella xiamenensis BC01 and MR-1 reduced Au3+ to Au@NPs, which were localized on the surface. By measuring the optimal condition, the highest amounts of Au@NPs were 108 ppm for SXM and 62 ppm for MR-1, respectively. It was found that an increase in biomass resulted in a decrease in Au@NPs. The presence of light dramatically accelerated nanoparticle formation. The mechanism of Au@NP formation and light-induced effect in Shewanella have been reported for the first time. The recovery of Au ions from industrial waste via Shewanella is a potential bioremediation option.
Abbreviations
Au@NPs:

gold nanoparticles
Ag@NPs:

silver nanoparticles
SXM:

Shewanella xiamenensis BC01
MR-1:

Shewanella oneidensis MR-1
SEM:

scanning electron microscopy
ICP-OES:

inductively coupled plasma-optical emission spectrometry
Declarations
Authors' contributions
ISN designed the experiment and analyzed the data, JWW performed most of experiments. ISN and JWW wrote the manuscript. Both authors read and approved the final manuscript.
Acknowledgements
The authors are grateful for the financial support for this study provided by the Ministry of Science and Technology (MOST 105-2221-E-006-225-MY3 and MOST-105-2621-M-006-012-MY3) in Taiwan.
Competing interests
The authors declare that they have no competing interests.
Availability of data and materials
The authors have agreed to provide the data and material for open access.
Consent for publication
The authors approved the consent for publishing the manuscript.
Ethics approval and consent to participate
All the authors have read and agreed the ethics for publishing the manuscript.
Funding
This work was supported by the Ministry of Science and Technology (MOST 105-2221-E-006-225-MY3 and MOST 105-2621-M-006-012-MY3) in Taiwan.
Publisher's Note
Springer Nature remains neutral with regard to jurisdictional claims in published maps and institutional affiliations.
Open AccessThis article is distributed under the terms of the Creative Commons Attribution 4.0 International License (http://creativecommons.org/licenses/by/4.0/), which permits unrestricted use, distribution, and reproduction in any medium, provided you give appropriate credit to the original author(s) and the source, provide a link to the Creative Commons license, and indicate if changes were made.
Authors' Affiliations
(1)
Department of Chemical Engineering, National Cheng Kung University, Tainan, Taiwan