Perspectives of lindane (γ-hexachlorocyclohexane) biodegradation from the environment: a review
Bioresources and Bioprocessing
2018
5:29
Received: 12 January 2018
Accepted: 6 June 2018
Published: 19 June 2018
Abstract
This review describes the biodegradation of Lindane (γ-hexachlorocyclohexane, γ-HCH) from the diverse sources. Environmental degradation of γ-HCH has been described in terms of integrated biological approaches such as metagenomics, cloning, phytoremediation, nanobiodegradation, and biosrfactants, genes and enzymes responsible for γ-HCH degradation and exploration of new strains of γ-HCH-degrading microbes from different environmental sources. Metagenomics-based approaches help in the identification and isolation of new genes from the uncultivable sources and provide insights for future research. There is potential in the elucidation of pathways of degradation of persistent organic pollutants (POPs) from environment by the microorganisms. This is possible by means of new/improved microbial species. The behavior of isolated strains and the microorganisms when present in community is altogether different. Therefore, there is a need to develop new technology which will identify the minor component of the microbial community involved in degradation because the minor part might have profound effect on degradation. This is mediated by the biological activity of the microbial system.
Keywords
Microbial degradationMetagenomicsPhytoremediationMicrobial communityLindane (γ-hexachlorocyclohexane, γ-HCH)
Background
The toxic organic compounds like polycyclic aromatic hydrocarbons (PAH), polychlorinated biphenyls (PCBs), chlorophenols (CPs) and dyes were continuously released into the environment by industrial and human activity. Microorganisms present in ecological sites in nature use these compounds for their metabolic activities and mediate physical and chemical change, leading to their partial or complete degradation (Raymond et al. 2001; Wiren-lehr et al. 2002). Bioremediation plays an important role in degradation of various recalcitrant and xenobiotic compounds in nature. It is mediated by a variety of microorganisms such as bacteria, fungi and actinomycetes. Lindane (1, 2, 3, 4, 5, 6- Hexachlorocyclohexane, γ-HCH) is a broad-spectrum chlorinated pesticide. Its production started in 1940s, after which it was used in agriculture to prevent the damage caused by vector-borne diseases. The HCH formulation is a mixture of γ-(10–12%), α- (60–70%), β- (5–12%) and δ- (6–10%) isomers. But, the only γ-HCH isomer has insecticidal activity (Li et al. 2003). Due to this feature, γ-HCH is purified to at least 99% and the remaining four isomers are discarded. They are released in the form of HCH muck (Nagata et al. 2007). The HCH isomers are hydrophobic, persistent, and ubiquitously distributed in the environment and, due to their lipophilic properties, accumulate in the food chain and lead to toxicity to living system. In the environment, it gets volatilized and transported to remote areas. Thus, HCH isomers are among the most persistent and frequently encountered pollutant in nature and contaminated sites have been reported from different parts of the world: including Brazil (Osterreicher-Cunha et al. 2003), Canada (Phillips et al. 2006), China (Zhu et al. 2005), Germany (Jürgens and Roth 1989), Greece (Golfinopoulos et al. 2003), India (Jit et al. 2011; Prakash et al. 2004), Spain (Concha-Graña et al. 2006), The Netherlands (van Liere et al. 2003), and United States (Phillips et al. 2006). The half-life period reported for lindane in soil and water was 708 and 2292 days, respectively (Beyer and Matthies 2001). Berger et al. (2016) determined the HCH derivatives in sediment, soil, water samples from contaminated riverine system from the riverine vicinity of central Germany. Because of their persistence and recalcitrance, lindane and other HCHs residues reside in the environment for a long time and have recently been detected in water, soil, sediments, plants and animals all over the world.
The traces of lindane have been detected in human fluids and tissues, such as blood, amniotic fluid, breast milk and adipose tissue (Herrero-Mercado et al. 2010). It is also reported that HCH and its isomers may cause serious damage to health in the short and long term. In mammals, acute lindane intoxication may cause respiratory dysfunction, generalized trembling, hyper-salivation, and convulsions, which can lead to death in extreme cases (Pesce et al. 2008). Lindane and other HCH isomers are endocrine disruptors, immune suppressive and as a potential carcinogens, teratogenic, genotoxic and mutagenic compounds (Salem and Das 2012). This is also reported for its neurotoxic effect due to its interference with gamma-aminobutyric acid (GABA) neurotransmitter. Chronic exposures to these compounds have been linked to renal and hepatic damages, adverse effects on reproductive system, gestation, and nervous system in mammals (Guillén-Jiménez et al. 2012; Salem and Das 2012). Besides this, lindane is also known to persist in the environment and bioaccumulate through food chain. The similar results were observed for organochlorine pesticides as well (Caicedo et al. 2011). Bioaugmentation and biostimulation by consortium in field conditions and lab-based study lead to reduction of HCH isomers through the action of consortium of strains (Garg et al.2016). Salam et al. (2017) studied bioaugmentation and phytoremediation potential of Candida VITJzN04 for lindane uptake by Saccharam sp. It was observed that half-life of lindane was decreased from 43.3 days (Saccharum alone) to 7.1 days when immobilized with yeast to plant. They also observed that a plant growth promoting yeast (Candida sp.) produces growth hormone and solubilizes insoluble phosphates in the soil.
The toxicity of persistant organic pollutants (POPs) from the contaminated sites is a major problem today and this needs great attention at global level, particularly in developing countries (Bezama et al.
2008
). These compounds accumulate in food chain due to their lipophilicity and biomagnification. The effects of most common organochlorine pollutants (DDT, HCH and Endosulfan) were reviewed by Mrema et al. (
2013
). The research in pesticide contamination needs to give attention and persistent use of these compounds will lead to contamination of soil, sediment, ground water and surface water (Mertens
2006
). It is difficult to predict the fate of POPs in the environment due to rigidity of their compounds by physical, chemical, photolysis and biological degradation. Therefore, their fate can be predicted using mathematical modeling and system dynamics approach and to stimulate their fate in soil using Verisim
R
stimulation software (Chaves et al.
2013
), time series model (Venier et al.
2012
), and transgene uptake lindane system-degradation model (Zhang
2003
). Milun et al. (
2016
) determined the effect of PCBs, organochlorine pesticides and trace metals in the tissues of bivalve molluscs, viz.
Mytilus galloprovincialis, Ostrea edulis, Venus verrucosa, Arca noae and Callista chione.
The fate, transport and release of pesticide into the environment are presented in Fig.
1
.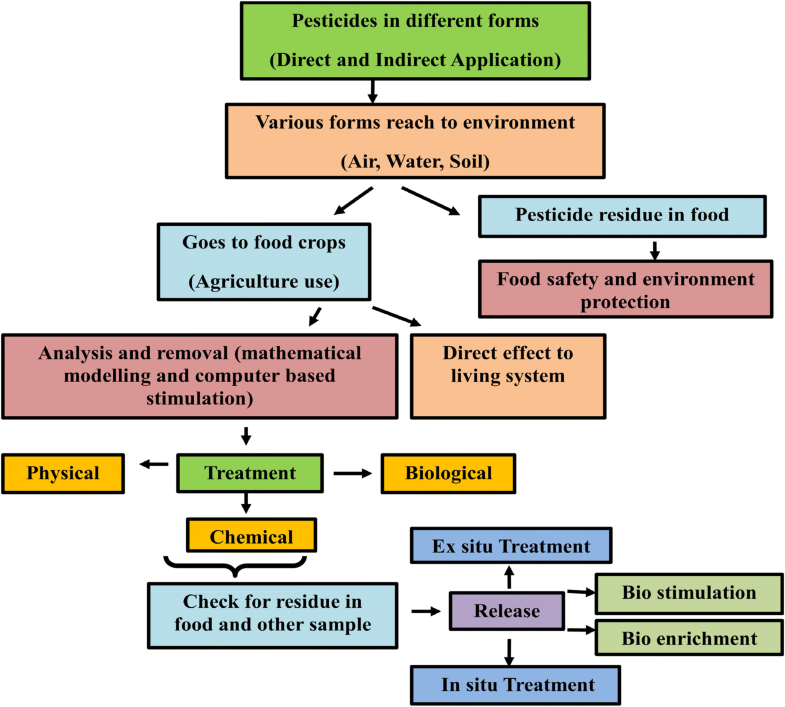 The traces of HCH persist in soil for long time and reach different living organisms through food chain. On percolation in soil, it disturbs the natural microflora of soil. Therefore, there is a need of great attention for the identification of locally adapted microorganisms from the environment for the development of in situ and ex situ remediation-based environmental management programme. A diverse kind of microorganisms was characterized from the diverse habitats of the soil, industrial effluent, polluted sites and major other sites. Therefore, new strains are being constantly explored by the researchers around the world. The degrading efficiency of the isolated strains can be increased by gene cloning and co-culture-based approaches. By the development of new techniques like metagenomics and nanobiotechnology, it becomes easy to explore new microorganisms and these can be deployed in bioremediation programme. Apart from these techniques, other technological developments in microbiology, genomics, gene cloning and sequencing lead to rapid identification and characterization of useful genes. The analysis of the environment at the contaminated sites by the optimization experiments using mathematical algorithms will help us to achieve the goal in this direction. The restoration technique employed for a variety of contaminated sites cleanup programmes was reviewed by Khan et al. (2004). The high resolution technique, the magic-angle spinning (1) H-NMR spectroscopy, was used for metabolomics profiling for the assessment of phytotoxicity of organochlorine (OC) pesticides (Blondel et al. 2016). The proteomics profiling of Sphingobium indicum B90A using genome-wide expression profiling indicated the induction of lin genes (linA, linB) in the presence of four HCH isomers. Proteomic data, qPCR study and promoter analysis indicated that the upregulation of linA transcription occurs in the presence of HCH isomers (Nandavaram et al. 2016). Fungi mediate the minor change in pesticide and xenobiotic compounds by transformation in soil and this has been accessed by bacteria for degradation (Gianfreda and Rao 2004). Therefore, the fungi have been considered as a useful bioresource for the source of genes/enzymes involved in bioremediation of pesticides in the environment, viz. laccase, peroxidase, esterase, dehydrogenase, lignin peroxidase and manganese peroxidase, etc. Fungi can be a good source to study degradation mechanism induced by gene expression, degradation pathway, genes/enzymes and environmental factors affecting the bioprocess (reviewed by Maqbool et al. (2016). Muñiz et al. (2017) conducted ecotoxicological survey of soils that were polluted with lindane (γ-HCH) wastes and this affects the organochlorine compounds on microbial communities. The toxicity of these compounds was studied on native earthworm (Allolobophora chlorotica) and it was noted that the earthworm activity increases due to the biodegradation of γ-HCH, reducing the intensity of endocrine disruption in soils at low/medium contamination. This review is an attempt to describe the developments in the last decade for the degradation-based methods developed for bioremediation of lindane as contaminant from diverse ecological sources.
Degradation of lindane
HCH is ranked among the top chemical of concern by different global environmental regulatory agencies as its exposure can cause severe health effects. However, some developing countries are still using it for economic reasons. Different approaches used for decontamination of HCH are chemical treatment, incineration and land-filling. But, they lack widespread application due to cost and toxicity concerns of the living organisms. These commonly practiced methods of disposal by incineration have the potential toxic effects and also economically less viable. Therefore, keeping in view all the limitations of various physical and chemical technologies, bioremediation has been proposed as an eco-friendly and promising tool for in situ detoxification of pesticide contaminated site(s). Bioremediation of chlorinated pesticides involves bioaccumulation, biosorption and biotransformation. Different microorganisms have been reported, which utilize many halogenated compounds in the form of growth substrate (Camacho-Pérez et al. 2011). The main reaction during microbial degradation of γ-HCH is dechlorination reaction. The oxidative conversion of several halogenated organic compounds may lead to the production of acylhalides or haloaldehydes. In the process of halogen atom removal, there is risk of forming toxic intermediates. Due to their electrophilic nature, the haloaldehydes are very reactive compound and may cause cellular damage (Janssen et al. 2001).
A variety of microorganisms have been shown to degrade lindane to different rate. But, the complete/partial mineralization of this compound is mediated by several bacteria and fungi. Since long time efforts have been made for studying the lindane biodegradation by bacteria. Many researchers have reported the degradation of lindane by anaerobic bacteria, e.g., the lindane degrading strains of Clostridium sp. (MacRae et al. 1969) and E. coli (Francis et al. 1975) isolated from the rat feces. Sahu et al. (1990, 1995) reported the dechlorination of lindane by Pseudomonas aeruginosa. Nalin et al. (1999) isolated a new strain of Rhodanobacter lindanclasticus which degraded technical grade HCH under aerobic condition. Gupta et al. (2001) reported the degradation of γ-HCH by Alkaligens faecalis, isolated from agricultural fields. A Gram-positive Microbacterium sp. strain ITRC1 was characterized by Manickam et al. (2006). Benimeli et al. (2008) described the bioremediation of lindane-contaminated soil and its effect on maize plant. Ceci et al. (2015) investigated the potential of a saprotrophic soil fungus, Penicillium griseofulvum Dierckx to degrade β-HCH, the most recalcitrant isomer of hexachlorocyclohexane. The fungus was isolated from soils with high concentrations of HCH isomers. After GC–MS analysis, it was confirmed that β-HCH degradation was confirmed by the formation of benzoic acid derivatives as dead-end products and up to 81.4% biodegradation of the β-HCH occurs. Kaur et al. (2016) studied lignolytic potential of white rot fungi Ganoderma lucidum GL-2 grown on rice bran substrates and lindane from these residues was analyzed by GC–MS. Anacleto et al. (2017) studied the phycoremediation capacity of macroalgae Laminaria digitata for diflubenzuron and lindane pesticides and also observed the toxic effects of cadmium and copper elements which were present in seawater.
Therefore, different aerobic and anaerobic bacteria were reported in different studies for their role of halogenated compounds as growth substrate. Bioremediation of chlorinated pesticides involves pollution reduction. Here, the microorganism removes the pollutant by different mechanisms, viz. bioaccumulation, biosorption and biodegradation. This leads to the degradation of lindane by both aerobic and anaerobic metabolic pathways. The microbes have the ability to withstand the sublethal concentration of toxic compounds as they utilize these compounds as sole carbon source. Several microorganisms, fungi, cyanobacteria, and bacteria were reported to degrade γ-HCH into different metabolites. But, in anaerobic degradation few reports were published and reported in liquid and slurry cultures (Quintero et al.
2005
). The role of a desorption-aid silicone oil on performance of slurry bioreactors treating a heavy soil polluted with lindane and the sequential methanogenic sulfate reducing slurry bioreactors without silicone oil shows the highest lindane removal efficiency up to 98% (Camacho-Pérez
2010a
,
c
). The several types of microorganisms have been characterized for HCH degradation as reported in various studies (Table
1
). Lal et al. (
2015
) determined the bacterial diversity of HCH muck disposal site and observed the degradation mediated mainly by linA and linB genes. The microbial species like
Marinobacter
,
Sphingomonads
and
Chromohalobacter
were dominant genera reported from the dump site. In our other study, two new strains viz.
Kocuria
sp. DAB-1Y and
Staphylococcus
sp. DAB-1 W were reported for 94 and 98% of lindane degradation, respectively, observed after 8 days of incubation in shake culture flask-based study (Kumar et al.
2016
). Laquitaine et al. (
2016
) observed the biodegradability of HCH from agricultural soils of Guadeloupe (French West Indies).
Table 1
List of lindane degrading microorganisms reported in different studies
S. no.

Microorganism

Reference

1.

Escherichia coli

Francis et al. (1975)

2.

Pseudomonas vesicularis P59

Huntjens et al. (1988)

3.

Sphingomonas paucimobilis UT26

Imai et al. (1989)

4.

Sphingobium japonicum

5.

Sphingobium indicum B90A

6.

Rhodanobacter lindaniclasticus

Thomas et al. (1996)

7.

Sphingobium francense sp..

Cérémonie et al. (2006); Kumari et al. (2002)

8.

Pseudomonas aeruginosa ITRC-5

Kumar et al. (2005)

9.

Sphingomonas sp. γ1-2, Sphingomonas sp. γ4-2

Sphingomonas sp. DS2-2, Sphingomonas sp. DS3-1

Böltner et al. (2005)

10.

Sphingomonas sp. γ4-5, Sphingomonas sp. γ16-10, Sphingomonas sp. γ16-12

Mohn et al. (2006)

11.

Microbacterium sp. ITRC-1

Manickam et al. (2006)

12.

Sphingomonas sp. BHC-A

13.

Sphingobium sp. MI1205

Ito et al. (2007)

14.

Burkholderia pseudomallei

Murthy and Manonmani (2007)

15.

Xanthomonas sp. ICH12

Manickam et al. (2006)

16.

Lindane acclimated inocula

Robles-Gonzalez et al. (2008)

17.

Trametes hirsutus

Singh and Kuhad (1999)

18.

Bacillus sp.

Yule et al. (1967)

19.

Cyanobacteria: Anabaena sp. and Nostoc ellipsosporum

Kuritz and Wolk (1995)

20.

Pseudomonas sp.

21.

Pseudomonas putida

Benezet and Matsumura (1973)

22.

Rhodanobacter lindaniclasticus

Thomas et al. (1996)

23.

Citrobacter freundii

Jagnow et al. (1977)

24.

Clostridium rectum S-17

Ohisa and Yamaguchi (1978)

25.

Clostridium sphenoides UQM780

MacRae et al. (1969)

26.

Sphingomonas paucimobilis

Miyauchi et al. (1998)

27.

Desulfovibrio sp.

Boyle et al. (1999)

28.

Bacillus brevis and Bacillus circulans

Gupta et al. (2000)

29.

Arthobacter citreus BI-100

Datta et al. (2000)

30.

Alcaligenes faecalis

Gupta et al. (2001)

31.

Pandoraea sp.LIN-3

Okeke et al. (2002)

32.

Mixed bacterial consortium

Pesce and Wunderlin (2004)

33.

Sphingomonas paucimobilis

Nagata et al. (2005)

34.

Streptomyces sp. M7

Benimeli et al. (2006)

35.

Pseudomonas aerogenosa ITRC5

Kumar et al. (2006)

36.

Pseudomonas aerogenosa

Lodha et al. (2007)

37.

Sphingomonas sp. NM05

Manickam et al. (2008)

38.

Pleuro tusostreatus, Trametes versicolor, Hypoxylon fragiforme

Rigas et al. (2009)

39.

Azotobacter chroococcum JL102

Anupama and Paul (2010)

40.

Actinobacteria sp. and Streptomyces sp.

41.

Kocuria rhizophila, Microbacterium resistens, Staphylococcus equorum, Staphylococcus cohnii subsp. Ureolyticus

Abhilash et al. (2011)

42.

Anabaena azotica

Salem and Das (2012)

43.

Fusarium verticillioides AT-100

Guillén-Jiménez et al. (2012)

44.

Sphingomonas baderi

Kaur et al. (2013)

45.

Arthrobacter florescens and Arthrobacter giacomelloi

De Paolis et al. (2013)

46.

Rhodotorula sp. VITJzN03

Salem et al. (2013)

47.

Candida VITJzN04

Salam and Das (2014)

48.

Clarias gariepinus

Barnhoorn et al. (2015)

49.

Pleurotus florida

Mohapatra and Pandey (2015)

50.

Streptomyces sp. M7

Sineli et al. (2016)

51.

Kocuria sp. DAB-IY and Staphylococcus sp. DAB-1 W

Kumar et al. (2016)

52.

Chromohalobacter sp. LD2

Bajaj et al. (2017)

53.

Bacillus sp. Lad-2a, Bacillus sp. Cal-6f and Bacillus sp. Ym-7e

Pannu and Kumar (2017)
Factors affecting lindane biodegradation
The dechlorination of lindane molecule occurs by the stepwise removal by the action of dechlorinase enzymes. Thus, the kinetics of pesticides degradation in the soil is commonly a biphasic reaction. It has a very rapid degradation rate in the beginning, followed by a very slow rate with dissipation. The remaining residues are often quite resistant to degradation (Alexander
1994
). HCH biodegradation was initially thought to be an anaerobic process but the degradation was rapid under aerobic conditions. The isolation and characterization of the strains occurred by various methods (Fig.
2
). Therefore, HCH degradation was influenced by temperature, pH, oxygen and biomass concentration along with many other factors. The kinetics of pesticides degradation in the soil is commonly a biphasic reaction in which rapid degradation occurs in the beginning and followed by a very slow rate in the later phase. The remaining residues are often quite resistant to degradation (Alexander
1994
). When the HCH is adsorbed in the soil, the degradation rate is much slower due to mass transfer limitations (Rijnaarts et al.
1990
). The ability of microbes to degrade HCH can be optimized by acclimatization of strains subsequent to higher concentration. The enzyme systems of the biodegradation pathway(s) get induced during the degradation phase and facilitate removal of the pollutant (Girish et al.
2000
; Elcey and Kunhi
2010
). The following section describes the factors affecting degradation of lindane: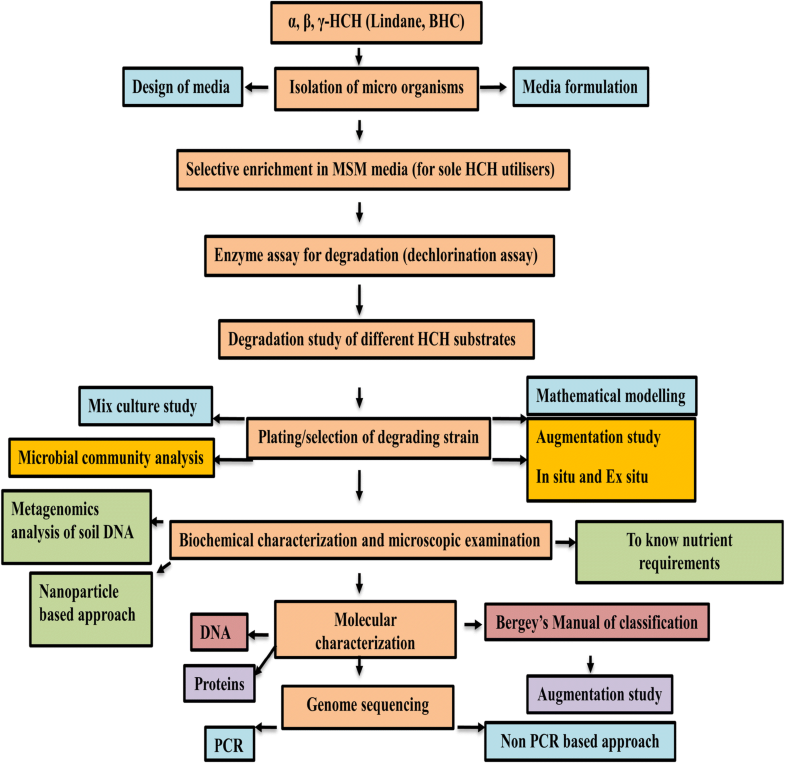 Different approaches for lindane degradation
The diverse approaches and techniques have been used for the degradation of lindane from environment samples collected from different polluted sites. The microbial consortium, metagenomics, nanobiotechnology, gene cloning, phytoremediation, plant–microbe interactions and biosurfactant-mediated degradation are discussed below along with their successful outcomes.
Conclusions
This review describes the updated information on remediation of chlorinated pesticides, particularly lindane from contaminated soil and water using biostimulation/bioaugmentation-based approaches. There is information regarding HCH degradation using metagenomcs, nanobiotechnology, phytoremediation and different biosurfactants from different contaminated sites. However, this information is insufficient and sometimes not applicable for field level studies where many parameters cannot be controlled or are less predictable. The prospects for developing economically viable HCH bioremediation technologies are based on the cloning of Lin genes and coupling of the above-said techniques. Keeping in view the health hazards and environmental impacts of the halogenated compounds, further research is needed in this direction to understand the basic mechanism of interactions of HCH-degrading microorganisms with the soil environment regulating HCH remediation. The advanced microbial and molecular approaches will provide better tools for the remediation of the most pernicious pollutants by means of exploring the novel microbial strains and/consortia.
Declarations
Authors' contributions
DK and RP written the paper and DK also supervised the overall paper work. Both authors read and approved the final manuscript.
Acknowledgements
The authors would like to thank UGC for the financial support in the form of major research project on lindane degradation awarded to DK. Authors also thanks to DCRUST Murthal for providing necessary facilities during this study.
Competing interests
The authors declare that they have no competing interests.
Availability of data and materials
All souces acknowledged for information presented.
Consent for publication
All authors have consent for publication.
Ethics approval and consent to participate
Not applicable.
Funding
Financial support from University Grants Commission (UGC), New Delhi India, is thankfully acknowledged to carry out this research work in the form of major research project (F.No.42-449/2013 (SR) awarded to DK.
Publisher's Note
Springer Nature remains neutral with regard to jurisdictional claims in published maps and institutional affiliations.
Open AccessThis article is distributed under the terms of the Creative Commons Attribution 4.0 International License (http://creativecommons.org/licenses/by/4.0/), which permits unrestricted use, distribution, and reproduction in any medium, provided you give appropriate credit to the original author(s) and the source, provide a link to the Creative Commons license, and indicate if changes were made.
Authors' Affiliations
(1)
Department of Biotechnology, Deenbandhu Chhotu Ram University of Science and Technology, Sonepat, India