Programming the group behaviors of bacterial communities with synthetic cellular communication
Bioresources and Bioprocessing
2014
1:24
Received: 26 August 2014
Accepted: 21 October 2014
Published: 12 November 2014
Abstract
Synthetic biology is a newly emerged research discipline that focuses on the engineering of novel cellular behaviors and functionalities through the creation of artificial gene circuits. One important class of synthetic circuits currently under active development concerns the programming of bacterial cellular communication and collective population-scale behaviors. Because of the ubiquity of cell-cell interactions within bacterial communities, having an ability of engineering these circuits is vital to programming robust cellular behaviors. Here, we highlight recent advances in communication-based synthetic gene circuits by first discussing natural communication systems and then surveying various functional engineered circuits, including those for population density control, temporal synchronization, spatial organization, and ecosystem formation. We conclude by summarizing recent advances, outlining existing challenges, and discussing potential applications and future opportunities.
Keywords
Synthetic biologyGene circuitsBacterial communitiesCellular communicationCollective behaviorsDynamics
Background
Synthetic biology is a newly emerged research discipline that focuses on the engineering of novel cellular behaviors and functionalities. Since the launch of the field in 2000 [1],[2], a wide range of synthetic gene devices have been created, including switches [3]-[9], oscillators [10]-[13], memory elements [7],[14],[15], and communication modules [13],[16]-[18], as well as other electronics-inspired genetic devices, such as digital logic gates [19]-[22], pulse generators [23], and filters [24],[25]. With designed cellular behaviors and functionalities, engineered circuits have been exploited to understand biological questions and to address various real-world problems [26]. The field has shown tremendous potential for biomedical, environmental, and energy-related applications [27]. For example, towards biomedical applications, engineered genetic circuits contribute to the understanding of disease mechanisms, provide novel diagnostic tools, enable economic production of therapeutics, and enable the design of novel treatment strategies for various diseases including cancer, metabolic disorders, and infectious diseases [28],[29].
In the last few years, the advances of synthetic circuits have been further expedited, empowered by recent breakthroughs in genetic engineering techniques such as novel DNA assembly [30]-[33] and genome editing tools [34]-[37], advances in methodologies including those for rational circuit design and optimization [38]-[40], and quick enrichment of parts and elements [41],[42]. As a result, synthetic biologists are now in a position to engineer desired cellular phenotypes in a larger, faster, and cheaper fashion.
One important class of synthetic circuits that are under active development concerns the programming of bacterial cell-cell communication and the group behaviors of communities [43]-[48]. Successful examples include gene constructs responsible for cellular density control [18], spatiotemporal patterning [13],[16],[49],[50], and ecosystem formation [51],[52]. The engineering of community-based circuits is essential and invaluable towards the implementation of complex but robust cellular functionality because of the following reasons: First, although microbes are single cell organisms, they are present dominantly in the form of communities in nature and in live bodies, such as biofilms [53],[54] and the human microbiome [55],[56]. Second, microbial physiology and functionality are strongly correlated with their forms - for instance, bacterial antibiotic resistance is distinct when cells are in planktonic forms and biofilm forms [57],[58]. Third, recent advances in the biotechnological industry have clearly shown that microbial consortia may provide many compelling advantages in producing products of interest and controlling fermentation processes [59],[60].
We are thus motivated in this article to overview the advances of synthetic gene circuits towards the programming of bacterial cellular communication and community behaviors. We will first discuss basic communication modules that confer cell-cell coordination in communities. We will then overview various functional gene circuits that enable the implementation of desired dynamic group behaviors, including those for population density control, temporal synchronization, spatial organization, and ecosystem formation. We will conclude by summarizing recent advances and discussing existing challenges, potential applications, and future opportunities.
Although not discussed here, it is important to note that there has been considerable progress in developing synthetic cellular communication in eukaryotes such as mammalian cells and yeast, which has been surveyed in the literature [51],[61],[62].
Review
Basic communication modules
Despite their species diversity, bacteria often utilize similar signaling systems for the implementation of their group behaviors [63],[64]. For instance, quorum sensing (QS) is prevalent in bacteria for coordinating their group behaviors such as bioluminescence [65], biofilm formation [66], pathogenesis [67] and antibiotic synthesis [68]-[70].
Bacterial communication via nonvolatile signaling molecules
In Gram-negative bacteria, acyl-homoserine lactones (AHLs) are commonly used as QS molecules for intra-species communication. These molecules are composed of a homoserine lactone ring with an acyl chain of C4 to C18 in length [
71
],[
72
]. AHL molecules are synthesized by the LuxI family synthases and detected by the corresponding LuxR-type receptors [
73
]. One canonical example of this class of communication is the QS system discovered in the bioluminescent marine bacterium
Vibrio fischeri
[
74
]. As shown in Figure
1
A, LuxI, the autoinducer synthase, produces the AHL molecule 3OC
6
HSL that can diffuse freely across the cell membrane and accumulate with the increase of cell density. Once the AHLs reach a threshold concentration, they form a complex with the LuxR receptor and activate the transcription of the downstream genes (
luxI
and
luxR
in this case). A positive feedback regulatory architecture arises here from the self-activation of LuxI synthesis to facilitate the synchronization of the cellular population. Similar to
V. fischeri
, many other Gram-negative bacteria also possess QS systems, including the LasI/LasR and RhlI/RhlR systems in
Pseudomonas aeruginosa
[
75
], the CarI/CarR system in
Erwinia carotovora
[
76
], and the EsaI/EsaR system in
Pantoea stewartii
[
77
]. From an engineering perspective, these QS systems can be decomposed into two separate modules with one for signal production and the other for signal detection and response - when engineered in different cells, the two functional modules will confer communications between the two cells as shown in Figure
1
C.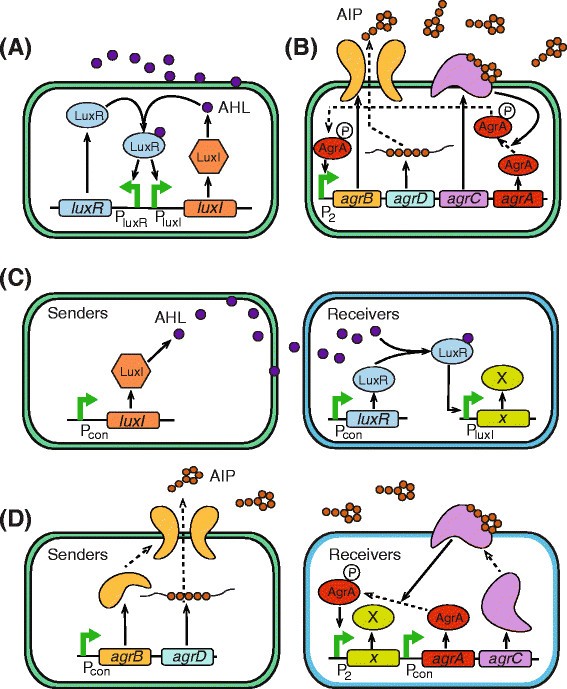 In Gram-positive bacteria, modified oligopeptides often serve as the signaling molecules for cellular communication with the cooperation of two-component systems. One classic example of this type of system is the Agr system in Staphylococcus aureus (Figure 1B) [78]. Here, the auto-inducing peptide (AIP) precursor, encoded by the gene agrD, is modified on its thiolactone ring and exported by AgrB protein. Upon the binding of AIP with the transmembrane protein AgrC, the transcriptional factor AgrA inside the cell is phosphorylated and then activated, which leads to the induction of the transcription of the downstream genes (agrB/D/C/A here). In addition to the Agr system, there are many communication systems based on auto-inducing peptides, such as the fsr system in Enterococcus faecalis[79], the Com system of Streptococcus pneumonia[80], and the nisRK system in Lactococcus[70]. To program collective behaviors in Gram-positive bacteria, a modular partition of those AI systems can thus been exploited (Figure 1D).
Other than the QS and AIP systems that are primarily present in intra-species communication, there are inter-species communication systems that coordinate cellular behaviors over multiple bacterial species. One such example is the communication systems mediated by the universal signaling molecule autoinducer-2 (AI-2), a furanosyl borate diester synthesized by LuxS from S-adenosylmethionine and present in roughly half of all sequenced bacterial genome [81],[82]. Towards programmable behaviors in multiple bacterial species, AI-2 is hence an ideal candidate for exploitation.
Bacterial communication via volatile and gas molecules
The adoption of nonvolatile molecules, such as AHLs and AIs, as the broadcast signal enables cellular coordination across various species. However, communications via those molecules require the presence of the both sender and receiver species in the same liquid environments or in gel-like setting within a short distance to allow for diffusion of signaling molecules. Volatile molecules, in contrast, can diffuse through air and circumvent the need of physical mediating settings for signaling, allowing for more versatile, rapid, and large-scale communications of communities.
Weber et al. recently established a communication system that utilizes acetaldehyde as signaling molecules [51]. In their study, a bacterial strain (sender) was engineered to constitutively express alcohol dehydrogenase (ADH), an enzyme that converts ethanol in the medium to acetaldehyde. Due to its low boiling point (21°C), acetaldehyde volatized and was broadcast to neighboring cells (receiver) via air to trigger the expression of genes controlled by the cognate acetaldehyde-inducible promoters. Therefore, the sender cells produced a concentric gradient of acetaldehyde that induced the dose-dependent gene expression of the receiver cells with the expression level defined by the distance between the sender and receiver cells.
In another example, Hasty and colleagues constructed ndh-2, a gene encoding NADH dehydrogenase II (membrane-bound respiratory enzyme), into an Escherichia coli strain to confer the production of hydrogen peroxide (H2O2) [83]. H2O2 is a thermodynamically unstable chemical compound and is able to enter neighboring cells quickly to alter their redox state and inactivate ArcAB, resulting in the shift of the activity of the corresponding downstream genes. Through the exploitation of H2O2, a novel route of airborne signaling molecule was created for fast and large-scale colony coordination.
Other communication mechanisms
In addition to the common signaling mechanisms discussed above, bacteria also exploit a wide range of alternative approaches for communications, such as quinolone signal [84], diffusible signal factor [85], cyclic dipeptide [86], diketopiperazines [86],[87], and others [88],[89]. One such representative mode of signaling is the use of indole, an aromatic heterocyclic organic compound that is produced by over 85 species of Gram-positive and Gram-negative bacteria and used as an extracellular signal for global coordination of various bacterial species [90]. Although little of those mechanisms have been explored for synthetic biology applications, the broad spectrum of signaling systems provides a rich reservoir for engineering multicellular functionality.
Dynamic group behaviors of bacterial communities via engineered communications
Cellular communications enable the coordination of single cells by sending and sensing the states of individuals. Inspired by this natural capability of bacteria, synthetic biologists have developed a set of engineered bacterial populations with their group behaviors programmed from designed artificial cell-cell communications.
Conclusions
With the advances of synthetic biology technologies and a consensus on the need for community-based functionality engineering, synthetic microbial consortia have undergone a rapid development in the past few years. This review has surveyed recent advances of engineered biological systems that utilize cell-cell communication to program bacterial group behaviors, covering both the basic communication modules and functional gene circuits that confer desired community-based dynamic behaviors.
Although there has been significant progress, the engineering of microbial communities is still in its infancy and is subject to a set of challenges. In fact, almost all synthetic circuits to date have involved many rounds of trial and error before achieving the desired functionality. Difficulties in the efficient construction of engineered circuits often stem from a lack of biological knowledge. Specifically, to facilitate gene circuit engineering, it is needed to have a deep understanding of stochasticity in gene expression [104]-[106], the inherent interplay between a synthetic circuit and the host organism [1], and issues related to multicellular physiology and metabolism [107]. Another big challenge arises from the technical side of synthetic biology, which includes the lack of powerful rational design platforms, limited availability of parts and modules, efficient systematic optimization strategies and toolkits, and high-throughput assays for circuit validation. Addressing the above challenges will foster our engineering capability and help to achieve the ultimate goal of efficient and reliable development of synthetic circuits with defined functionality.
Despite the challenges, the future of engineered microbial communities is bright. In fact, synthetic consortia have already started to show tremendous potential in both understanding biological questions and addressing real-world concerns. For example, extended from the programming of cellular dynamics, synthetic bacterial systems have been applied to understand ecological and evolutionary questions that are difficult to address with natural communities [108]. Towards real-world applications, bacterial consortia synthesized with designer communication modules have been used for information processing [109],[110], bio-computation [111], and therapeutics [112]-[114], as well as material and chemical productions [115]-[117]. There are a variety of research fields where synthetic bacterial consortia have started to play an important role: In metabolic engineering, cellular communication can be used to implement self-regulated control between cellular growth and product manufacturing in bioreactors for autonomous bioproduction. In biomedical applications, custom-tailored probiotic bacteria can be introduced into the human body to alter the composition and hence the function of the gut microbiota for disease treatment. In areas relating to the environment, biofilms and microbial consortia in soil and other natural settings can be perturbed and even reprogrammed with engineered microbes for desired purposes. We thus expect that microbial communities programmed via engineered cellular communication will become a versatile strategy in addressing both scientific and practical challenges in the near future.
Abbreviations
ADH:

alcohol dehydrogenase
AHL:

acyl-homoserine lactones
AI-2:

autoinducer-2
AIP:

auto-inducing peptide
CHO cells:

Chinese hamster ovary cells
H2O2 :

hydrogen peroxide
Ndh-2:

NADH dehydrogenase II
QS:

quorum sensing
SEAP:

secreted alkaline phosphatase
Declarations
Acknowledgements
We thank Andrew Blanchard for commenting and editing the manuscript. This work was supported by the American Heart Association (Grant No. 12SDG12090025), the Network for Computational Nanotechnology at UIUC sponsored by National Science Foundation (Grant No. 1227034), and the UIUC Research Board.
Authors' Affiliations
(1)
Department of Bioengineering, University of Illinois at Urbana-Champaign, Urbana, USA
(2)
Institute for Genomic Biology, University of Illinois at Urbana-Champaign, Urbana, USA
(3)
State Key Laboratory of Bioreactor Engineering, East China University of Science and Technology, Shanghai, People's Republic of China
(4)
Department of Physics, University of Illinois at Urbana-Champaign, Urbana, USA
Copyright
© Kong et al.; licensee Springer. 2014
This article is published under license to BioMed Central Ltd. This is an open access article distributed under the terms of the Creative Commons Attribution License (http://creativecommons.org/licenses/by/4.0), which permits unrestricted use, distribution, and reproduction in any medium, provided the original work is properly credited.