An overview on biofuel and biochemical production by photosynthetic microorganisms with understanding of the metabolism and by metabolic engineering together with efficient cultivation and downstream processing
Bioresources and Bioprocessing
2015
2:17
Received: 24 December 2014
Accepted: 11 March 2015
Published: 16 April 2015
Abstract
Biofuel and biochemical production by photosynthetic microorganisms such as cyanobacteria and algae is attractive to improve energy security and to reduce CO2 emission, contributing to the environmental problems such as global warming. Although biofuel production by photosynthetic microorganisms is called as the third generation biofuels, and significant innovation is necessary for the feasibility in practice, these fuels are attractive due to renewable and potentially carbon neutral resources. Moreover, photosynthetic microorganisms are attractive since they can grow on non-arable land and utilize saline and wastewater streams. Highly versatile and genetically tractable photosynthetic microorganisms need to capture solar energy and convert atmospheric and waste CO2 to high-energy chemical products. Understanding of the metabolism and the efficient metabolic engineering of the photosynthetic organisms together with cultivation and separation processes as well as increased CO2 assimilation enables the enhancement of the feasibility of biofuel and biochemical production.
Keywords
MicroalgaeCyanobacteriaBiofuelsMetabolic engineeringCO2 fixationMetabolic regulation
Background
International Panel on Climate Change (IPCC) keeps warning the global society on global warming caused by green-house gases such as CO2 based on the accumulating data and the reliable prediction model. IPCC asks world societies to make decisions to invest for the reduction of CO2 emissions mostly caused by human activities. This may be also considered from the point of view of future cost caused by the severe climate change due to global warming. Namely, the global warming may cause serious local climate change as well as the rise in the sea level, which give severe damage to the societies worldwide. In fact, we have often experienced disastrous climate change year by year, and it seems to be more and more severe.
The global carbon cycle has been perturbed by emissions from the combustion of fossil fuels and by changes in land use and land intensity. These perturbations have led to cumulative anthrogenic CO2 emissions of 570 ± 70 petagrams carbon since 1750 to 2012 [1]. Seventy percent of these emissions originated from the combustion of fossil fuels [1].
According to the data of International Energy Agency (OECD, 2011), total energy consumption in the world increased more than 78% over the last three decades. Major usage of fossil fuels causes serious environmental problems worldwide, and much attention has been focused on reducing their usage by alternative clean fuels. Namely, due to the global warming problem caused by the increased use of fossil fuels together with limited amount of fossil fuels and the fluctuating cost caused by unstable political disturbances, alternative renewable energy sources have recently been paid much attention [2]. In fact, at the present staggering rate of consumption, the world fossil oil reserves will be exhausted in less than 50 years [3]. Carbon neutral biofuels are needed to replace the petroleum oil which causes global warming caused by the emission of green house gases. Currently, the world consumes about 15 terawatts of energy per year, and only 7.8% of this is derived from renewable energy sources [4]. Moreover, in comparison with other forms of renewable energy such as wind, tidal, and solar energy, liquid biofuels allow solar energy to be stored and also to be used directly in existing engines and transport infrastructure [5].
Annually, about 5,500 × 1021 J of solar energy reaches the Earth's atmosphere [6]. Photosynthetic organisms including higher plants, microalgae, and cyanobacteria play the crucial roles of capturing solar energy and storing it as chemical energy [7]. The amount of solar energy currently captured by arable crops is limited by arable land area (about 3.9% of the Earth's surface area), fresh water (about 1% of global water), nutrient supply, and solar energy-to-biomass conversion efficiency [8-10]. Terrestrial plants capture 121.7 × 109 metric tons of carbon from the atmosphere each year [11] using solar light and CO2 as the energy and carbon sources. Photosynthesized carbon is then chemically converted to a variety of chemical compounds, and it is attractive to use photosynthetic organisms as green factories for producing carbohydrates, liquid fuels, and pharmaceutical drugs as well as food and feed, thus contributing to the balancing of the atmospheric carbon [12].
The advantages of using photosynthetic microorganisms include the photosynthetic efficiency, location on non-arable land (about 25% of the Earth's surface), and the use of saline and wastewater source [7], where less than 1% of the available solar energy flux is converted into chemical energy by photosynthesis [13], and much effort has been focused on the enhancement of photosynthetic carbon fixation.
The so-called first generation biofuels have been produced from corn starch and sugarcane. However, this causes the problem of the so-called 'food and energy issues' as the production scale increases. The second generation biofuels production from lignocellulosic biomass has thus been paid recent attention. However, it requires energy-intensive pretreatment for the degradation of lignocellulosic biomass [14]. The third generation biofuel production from photosynthetic organisms such as cyanobacteria and algae has been also attracted some attention, but the cell growth rate is quite low, and thus the productivity of the metabolites is significantly low [15].
Although the biofuel and biochemical production by photosynthetic organisms has a big hurdle to overcome, it is still highly attractive due to CO2 fixation with sunlight (and water) from environmental protection point of view, and thus contributing to the global warming problem as well. A variety of host organisms such as bacteria, fungi, and microalgae may be considered for the production of biofuels and biochemicals from CO2 with sunlight. Although photosynthetic organisms offer the ability to produce biofuels and biochemicals directly from CO2 and sunlight, significant innovation is inevitable for the process development in relation to large-scale cultivation, harvesting, and product separation, since the production rate is significantly low.
The commonly used photosynthetic organisms for biofuel and biochemical production are algae and cyanobacteria [16,17]. Microalgae are photosynthetic eukaryotic organisms with size ranging from 1 to 100 μm, while cyanobacteria are prokaryotic organisms with size ranging from 1 to 10 μm. Cyanobacteria gave rise to the chloroplasts of eukaryotic algae and also land plants, and they share many features such as the ability to drive photosynthetic water photolysis and thereby contribute to the production of both atmospheric oxygen and reduced organic carbon [7].
Microalgae are unicellular photosynthetic microorganisms that can convert solar energy to chemical energy with efficiency of 10 to 50 times greater than terrestrial plants [18]. Algae have far higher cell growth rates than plants and, therefore, have much smaller footprints for land required for producing energy [19-21]. Many microalgae are rich in oil especially under nitrogen-starved condition, which can be converted to biodiesel using existing technology. The productivity of these photosynthetic microorganisms in converting CO2 into carbon-rich lipids, only a step or two away from biodiesel, significantly exceeds that of agricultural oleaginous crops, without competing for arable land [22]. They require aquatic environments that may vary from freshwater to seawater. Not only do these organisms fix CO2, but they also have the potential to be used for the production of inexpensive bulk chemicals, because the major inputs to the system (light and CO2) are essentially free [23]. Microalgae cells contain approximately 50% of carbon, in which 1.8 kg of CO2 is fixed by producing 1 kg of microalgae biomass [19].
Recent studies have reported that Chlorella sp., Scenedesmus sp., and Botryococcus braunii are among the microalgae strains that have shown promising result to bio-mitigate O2 emission with typical CO2 consumption rate of 200 to 1,300 mg/L/day [24-28]. Successful commercial utilization of microalgae has been established in low-volume, high-value derivatives such as nutritional supplements, antioxidants, cosmetics, natural dyes, and polyunsaturated fatty acids (PUFA) [29].
In the case of plants, it is frequently found that metabolite pools exist in more than one location or that the subcellular location of one or more reactions is uncertain [30]. Entire sections of metabolic pathways like glycolysis are duplicated between organelles, particularly the plastid and cytosol, with both being potentially active and carrying flux [31]. The simplest way is to examine metabolites which are formed in only one of the compartments [32-36]. Another method involves the fraction of cellular material prior to metabolite analysis [37]. Unfortunately, even with the supplemental information provided by analyzing compartment-specific metabolites, it may still be difficult to statistically distinguish different configurations of the metabolic map [38].
In the present article, we focus on the typical photosynthetic microorganisms such as algae and cyanobacteria and attempted to make a review on the metabolic regulation, metabolic engineering, and process development with efficient operation for the production of biofuels and chemicals to understand the current status and expect future perspectives.
Conclusions
The fluctuation in global prices of crude oil, increasing threats to the environment by exhaust emissions, global warming, and threats of supply instabilities have adversely impacted the developing countries, more so to the petroleum-importing countries. The rising of sea level caused by green-house gas (CO2) also threatens the most populated areas of the world. It is important to find a safe alternative fuel to relieve the escalating energy crisis and to protect the environment. Photosynthetic microorganisms have emerged as one of the most promising sources for biodiesel production.
Although algae and cyanobacteria have been paid recent attention from the point of view of sustainable biosynthesis as well as biofuel and biochemical production, the cell growth rate is significantly lower as compared to the typical biofuel-producing microorganisms such as E. coli and yeast. It is, therefore, strongly desirable to design microbial cell factories by means of a synthetic biology approach with in-depth understanding of the metabolic regulation mechanism with the aid of a systems biology approach such as modeling.
Several attempts are being made for improving the efficiency of capturing light energy and CO
2
fixation as mentioned before. One of the reasons of the lower cell growth rate in cyanobacteria may be due to an incomplete TCA cycle lacking KGDH and succinyl CoA synthetase (SCS). Recent investigation on
Synecococcus
sp. PCC7002 indicates that the genes encoding αKG decarboxylase (or 2-oxoglutarate decarboxylase) and succinic semialdehyde dehydrogenase are present, where NADPH instead of NADH is produced without producing guanosine triphosphate (GTP) by substrate level phosphorylation (Figure
5
) [
208
]. It is important to elucidate the nature of such TCA cycles in cyanobacteria and plants from the point of view of functional significance of the metabolic feature in a broader evolutionary context [
209
]. Further investigation is necessary to improve the cell growth rate with balanced energy generation and biosynthesis.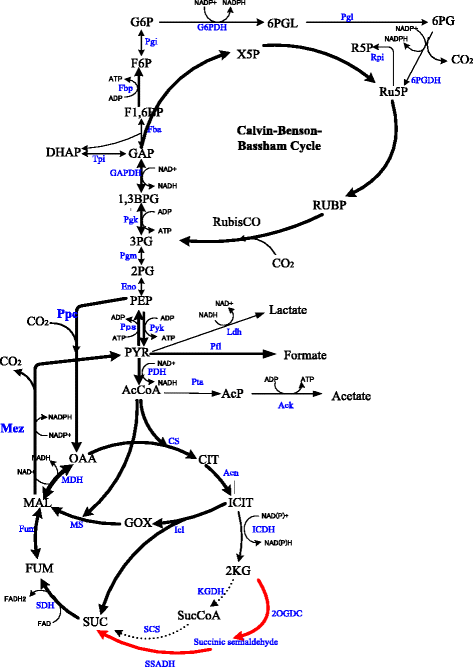 Declarations
Acknowledgements
The authors would like to acknowledge Sheuli Bala for her helping during typing the manuscript.
Authors' Affiliations
(1)
Department of Microbiology, Primeasia University, Dhaka, Bangladesh
(2)
Kyushu Institute of Technology, Iizuka, Japan
(3)
Institute of Advanced Bioscience, Keio University, Tsuruoka, Japan
Copyright
© Sarkar and Shimizu; licensee Springer. 2015
This is an open access article distributed under the terms of the Creative Commons Attribution License (http://creativecommons.org/licenses/by/4.0), which permits unrestricted use, distribution, and reproduction in any medium, provided the original work is properly credited.