Recent updates on different methods of pretreatment of lignocellulosic feedstocks: a review
Bioresources and Bioprocessing
2017
4:7
Received: 18 October 2016
Accepted: 10 January 2017
Published: 18 January 2017
Abstract
Lignocellulosic feedstock materials are the most abundant renewable bioresource material available on earth. It is primarily composed of cellulose, hemicellulose, and lignin, which are strongly associated with each other. Pretreatment processes are mainly involved in effective separation of these complex interlinked fractions and increase the accessibility of each individual component, thereby becoming an essential step in a broad range of applications particularly for biomass valorization. However, a major hurdle is the removal of sturdy and rugged lignin component which is highly resistant to solubilization and is also a major inhibitor for hydrolysis of cellulose and hemicellulose. Moreover, other factors such as lignin content, crystalline, and rigid nature of cellulose, production of post-pretreatment inhibitory products and size of feed stock particle limit the digestibility of lignocellulosic biomass. This has led to extensive research in the development of various pretreatment processes. The major pretreatment methods include physical, chemical, and biological approaches. The selection of pretreatment process depends exclusively on the application. As compared to the conventional single pretreatment process, integrated processes combining two or more pretreatment techniques is beneficial in reducing the number of process operational steps besides minimizing the production of undesirable inhibitors. However, an extensive research is still required for the development of new and more efficient pretreatment processes for lignocellulosic feedstocks yielding promising results.
Keywords
PretreatmentLignocellulosic biomassCelluloseLigninReducing sugars
Background
Lignocellulosic feedstock represents an extraordinarily large amount of renewable bioresource available in surplus on earth and is a suitable raw material for vast number of applications for human sustainability. The main composition of lignocellulosic feedstocks is cellulose, hemicellulose, and lignin (Table
1
). However, many obstacles are associated with effective utilization of lignocellulosic materials. Some of the major factors are the recalcitrance of the plant cell wall due to integral structural complexity of lignocellulosic fractions and strong hindrance from the inhibitors and byproducts that are generated during pretreatment. In addition, few more challenges still remain, like understanding the physicochemical architecture of feedstock cell walls, suitable pretreatment method and extent of cell wall deconstruction for generation of value-added products etc.
Table 1
Cellulose, hemicellulose, and lignin content in common lignocellulosic feedstocks
| Lignocellulosic feedstocks | Cellulose (%) | Hemicellulose (%) | Lignin (%) |
| --- | --- | --- | --- |
| Sugar cane bagasse | 42 | 25 | 20 |
| Sweet sorghum | 45 | 27 | 21 |
| Hardwood | 40–55 | 24–40 | 18–25 |
| Softwood | 45–50 | 25–35 | 25–35 |
| Corn cobs | 45 | 35 | 15 |
| Corn stover | 38 | 26 | 19 |
| Rice Straw | 32 | 24 | 18 |
| Nut shells | 25–30 | 25–30 | 30–40 |
| Newspaper | 40–55 | 25–40 | 18–30 |
| Grasses | 25–40 | 25–50 | 10–30 |
| Wheat straw | 29–35 | 26–32 | 16–21 |
| Banana waste | 13.2 | 14.8 | 14 |
| Bagasse | 54.87 | 16.52 | 23.33 |
| Sponge gourd fibers | 66.59 | 17.44 | 15.46 |
| Agricultural residues | 5–15 | 37–50 | 25–50 |
| Hardwood | 20–25 | 45–47 | 25–40 |
| Softwood | 30–60 | 40–45 | 25–29 |
| Grasses | 0 | 25–40 | 35–50 |
| Waste papers from chemical pulps | 6–10 | 50–70 | 12–20 |
| Newspaper | 12 | 40–55 | 25–40 |
| Sorted refuse | 60 | 20 | 20 |
| Leaves | 15–20 | 80–85 | 0 |
| Cotton seed hairs | 80–95 | 5–20 | 0 |
| Paper | 85–99 | 0 | 0–15 |
| Switch grass | 45 | 31.4 | 12 |
There are several criteria for the selection of a suitable pretreatment method: (a) the selected method should avoid the size reduction of biomass particles, (b) hemicellulose fraction must be preserved, (c) minimize the formation of degradation products, (d) minimize the energy demands and lastly, (e) should involve a low-cost pretreatment catalyst and/or inexpensive catalyst recycle and regeneration of high-value lignin co-product (Wyman 1999). The result of the pretreatment must not only defend but also justify its impact on the cost of downstream processing steps and the tradeoff between operating costs, capital costs, biomass costs, etc. (Lynd et al. 1996).
The pretreatment techniques for overcoming biomass recalcitrance are broadly divided into two classes: biochemical and thermochemical (Laser et al. 2009). Based on the operating temperatures, thermochemical pretreatment is again of two types: pyrolysis and gasification. The advantage of thermochemical conversion is that it is a fast process with low residence time and is able to handle a broad range of feedstock in a continuous manner, but major drawback is its non-specific nature of biomass deconstruction. On the other hand, biochemical pretreatment is highly selective in biomass deconstruction to their desired product formation. However, biochemical conversion first uses low-severity thermochemical pretreatment to partially break down the cell wall and expose the cellulose and hemicellulose fractions for improving enzyme accessibility. Elucidating the physicochemical effects of the possible pretreatments upon subsequent hydrolysis and fermentation of biomass has been a significant challenge.
Although several reviews have been present which describe the various categories of pretreatment processes individually, however, a comprehensive review covering different types of pretreatment processes along with their advantages and disadvantages was the need of the hour. Therefore, this review covers all the techniques that have been developed and used for pretreatment of lignocellulosic biomass, recent advancements in pretreatment technology, their mechanism of action, and effect on various lignocellulosic feedstocks.
Methods of pretreatment
The pretreatment of lignocellulosic feedstocks is an essential step and is required to alter the structure of biomass residues and expose the lignocellulosic fractions for easy access to enzymes during enzymatic hydrolysis and enhance the rate and yield of reducing sugars (Alvira et al.
2010
). Basically, the pretreatment processes are classified into two major regimes viz. non-biological and biological. A list of promising and most commonly used pretreatment methods are listed in Fig.
1
. Based on the type of the treatment process involved, lignocellulosic biomass pretreatment methods are broadly classified into two groups: Non-biological and biological. Non-biological pretreatment methods do not involve any microbial treatments and are roughly divided into different categories: physical, chemical, and physico-chemical methods. Here, we have reviewed the advances in few selective treatment methods that are most commonly employed in pretreatment process of a broad range of lignocellulosic feedstocks.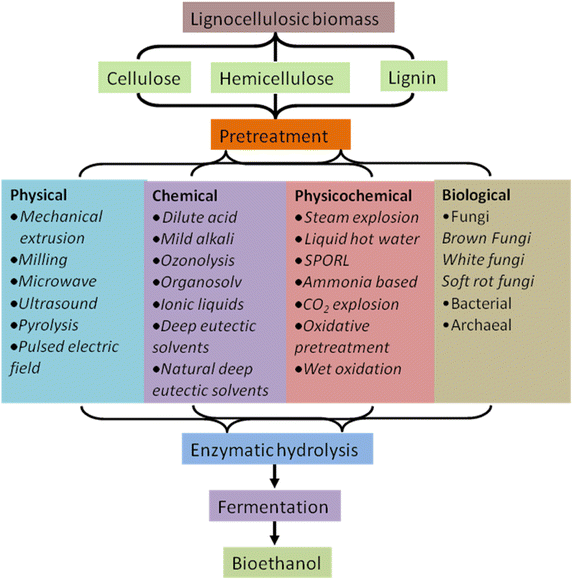 Applications of biomass pretreatment
Biomass pretreatment results in production of several value-added products. Although, here we have described in brief but this topic is beyond the scope of this review and readers are suggested to refer recent review on various products obtained from pretreated lignocellulosic biomass (Putro et al. 2016). Several valuable products can be obtained through lignocellulosic biomass. Among which biofuel and chemicals are well known and widely studied.
Biofuels
Several biofuels are obtained through lignocellulosic biomass such as bio-oil, bioethanol, biohydrogen, biogas, syngas etc. Bio-oil is produced through pyrolysis along with biochar, tar and gases. Bio-oil is produced by fast depolymerisation of lignocellulose components viz. hydroxyaldehydes, sugars, hydroxyketones, carboxylic acids, and phenols. Bioethanol can be produced through 5 different methods: separate hydrolysis and fermentation (SHF), simultaneous saccharification and fermentation (SSF), simultaneous and saccharification co-fermentation (SSCF), consolidated bioprocessing (CBP), and integrated bioprocessing (IBP) (Sarkar et al. 2012; Jagmann and Philipp 2014). SSF is the most promising among these processes because of its low-cost and high product yield. IBP is another promising process which involves treatment with microorganisms at every step in a single step. However, there is no reported work on pretreatment through IBP (Chandel et al. 2015). Biohydrogen can be produced from lignocellulosic biomass through thermochemical (gasification and pyrolysis) or biological routes (Ni et al. 2006). Through pyrolysis, hydrogen can be produced through fast or flash pyrolysis (Putro et al. 2016). Hydrogen can produced through gasification by partial oxidation and steam reformation followed by waster-gas shift reaction. Two processes to produce biohydrogen through biological route are: photo fermentation which is light dependant and dark fermentation which is light independent (Sivagurunathan et al. 2016). Although biogas and syngas have similar composition (CO2, CH4, H2, and N2), they are produced through two different processes. Biogas is produced through anaerobic digestion which comprises of four steps: hydrolysis, acidogenesis, acetogenesis, and methanogenesis (Taherzadeh and Karimi 2008) while syngas is produced by gasification carried out at lower temperature due to high reactivity of biomass. Biomass gasification has three types of processes namely: (1) pyrolysis which involves anaerobic decomposition of biomass at high temperature, (2) partial oxidation which requires less amount of oxygen as compared to oxidation, and (3) steam gasification which involves the reaction of water with biomass.
Bioproducts
The chemicals from lignocellulosic biomass can be derived either through carbohydrate source or through lignin. (1) The simplest chemical derived from carbohydrate is furfural and 5-hydroxymethylfurfural (HMF), produced through acid catalyzed dehydration of C5 and C6 sugars (Delidovich et al. 2016). Sugar alcohols such as sorbitol and xylitol are obtained by the hydrogenation of hexose and pentose (Romero et al. 2016). Also, glycerol, widely used for making bio-solvents, polymers, surfactants etc. can be produced by hydrogenolysis of sorbitol and xylitol (Choi et al. 2015). Also lactic acid and succinic acid can be obtained by the biological conversion caused by bacteria and mold. (2) Lignin has been used to generate heat in the earlier days. In the recent times lignin has been a rich source of valuable products like phenolic compounds. The basic principle behind the conversion of lignin to phenolic compounds is depolymerization. Different ways to convert lignin to phenolics compounds are liquefaction (Kang et al. 2013), oxidation (Ma et al. 2015), solvolysis (Kleinert and Barth 2008), hydrocracking (Yoshikawa et al. 2013) and hydrolysis (Roberts et al. 2011). Lignocellulose biomass has also been used for development of advanced technology products for energy storage, transportation, medical applications, biosensing, environmental remediation etc. (Wang et al. 2013; Brinchi et al. 2013; Yang et al. 2013).
Conclusion
The presence of lignin in the biomass inhibits the hydrolysis of cellulose and hemicellulose. Therefore, extensive research has been carried out for developing various pretreatment techniques for delignification of biomass. However, critical analysis of pretreatment methods bring us to a conclusion that pretreatment method is a 'tailor-made' process for every individual biomass which should be meticulously selected and planned based on the characteristic properties of biomass. Also, it can be concluded that till date a single pretreatment method has not been established which can carry out complete delignification of biomass in an economic and environment friendly manner. Though, combined pretreatment methods have been successful to an extent, still a lot of research needs to be done in developing combined pretreatment methods to their full potential. This critical review comprising of physical, chemical, physicochemical and biological pretreatment processes along with their advantages and disadvantages will help the researcher in planning, selection, and development of pretreatment process for various lignocellulosic biomass.
Declarations
Authors' contributions
AKK and SS designed and wrote the review. Both authors read and approved the final manuscript.
Acknowledgements
The authors are thankful to the Director, Sardar Patel Renewable Energy Research Institute, Gujarat, India, for support of this research.
Competing interests
The authors declare that they have no competing interests.
Availability of data and material
All the authors have agreed to provide the data and material for open access.
Consent for publication
All the authors have approved the consent for publishing the manuscript.
Ethics approval and consent to participate
All the authors have read and agreed the ethics for publishing the manuscript.
Funding
The research work is financially supported by Indian Council of Agricultural Research (ICAR), under All India Co-ordinated Research Project (AICRP) –EAAI program, Govt. of India with Grant Number VVN/RES/DRET-LBT/2014/3, Department of Biotechnology with Grant Number BT/PR12368/PDB/26/431/2014.
Open AccessThis article is distributed under the terms of the Creative Commons Attribution 4.0 International License (http://creativecommons.org/licenses/by/4.0/), which permits unrestricted use, distribution, and reproduction in any medium, provided you give appropriate credit to the original author(s) and the source, provide a link to the Creative Commons license, and indicate if changes were made.
Authors' Affiliations
(1)
Bioconversion Technology Division, Sardar Patel Renewable Energy Research Institute, Anand, India