Review on the current status of polymer degradation: a microbial approach
Bioresources and Bioprocessing
2017
4:15
Received: 5 December 2016
Accepted: 8 March 2017
Published: 23 March 2017
Abstract
Inertness and the indiscriminate use of synthetic polymers leading to increased land and water pollution are of great concern. Plastic is the most useful synthetic polymer, employed in wide range of applications viz. the packaging industries, agriculture, household practices, etc. Unpredicted use of synthetic polymers is leading towards the accumulation of increased solid waste in the natural environment. This affects the natural system and creates various environmental hazards. Plastics are seen as an environmental threat because they are difficult to degrade. This review describes the occurrence and distribution of microbes that are involved in the degradation of both natural and synthetic polymers. Much interest is generated by the degradation of existing plastics using microorganisms. It seems that biological agents and their metabolic enzymes can be exploited as a potent tool for polymer degradation. Bacterial and fungal species are the most abundant biological agents found in nature and have distinct degradation abilities for natural and synthetic polymers. Among the huge microbial population associated with polymer degradation, Pseudomonas aeruginosa, Pseudomonas stutzeri, Streptomyces badius, Streptomyces setonii, Rhodococcus ruber, Comamonas acidovorans, Clostridium thermocellum and Butyrivibrio fibrisolvens are the dominant bacterial species. Similarly, Aspergillus niger, Aspergillus flavus, Fusarium lini, Pycnoporus cinnabarinus and Mucor rouxii are prevalent fungal species.
Keywords
PolymerMicrobial degradationBacteriaFungiNatural polymersSynthetic polymersPolysaccharideHydrolytic enzymePollutionOrganic pollutantsWaste managementBiofilmSurfactantsLDPEAerobic degradationAnaerobic degradationUV irradiationManmade compoundPlastic wasteSEMSturm testFT-IR
Background
Developments in science and technology, especially over the last 2 decades, have led to the production of a number of synthetic polymers worldwide. The polymers are chains of monomers linked together by chemical bonds. Polymers such as lignin, starch, chitin, etc., are present in the environment naturally. Nowadays, synthetic polymers are used in several industries, of which packaging application covers 30% of plastic use throughout the world (Shah et al. 2008b; Dey et al. 2012; Kumar et al. 2011). In the nineteenth and twentieth centuries plastic played a revolutionary role in the packaging industries. Thereafter, approaches to transportation were changed with the introduction of carrying bags made of polyethylene (Nerland et al. 2014). Synthetic polymers are widely used because of their durability and low cost, but disposal of packaging material has emerged as a challenge for solid waste management, and it is a major source of pollution (Song et al. 2009; Dey et al. 2012). Now such types of synthetic compounds have become a nuisance affecting natural resources like water quality and soil fertility by contaminating them (Bhatnagar and Kumari 2013; Ojo 2007; Arutchelvi et al. 2008). In the 1990s, plastic waste was found to have tripled and is continuously increasing in the marine environment (Moore 2008). The level of debris materials increased markedly from 1990 to 1995 on Bird Island of South Georgia; similarly, the garbage amount doubled in the coastline area of the UK during 1994–1998 (Walker et al. 1997; Barnes 2002). It was estimated that neuston plastic increased ten-fold between 1970 and 1980 in Japan (Moore 2008). The total demand for plastic was 107 million tons in 1993, which increased to 146 million tons in 2000. The growth rate of the plastic industry in Pakistan is 15% per annum (Shah et al. 2008b). Plastic waste is being generated rapidly worldwide. The UK, China and India contribute 1 million tons, 4.5 million tons and 16 million tons, respectively (Kumar et al. 2011). India generates around 10 thousand tons of plastic waste (Puri et al. 2013). The annual production of plastic was estimated as 57 million tons in Europe in 2012. Polyethylene is one of the common forms of plastic compared to others (polyvinyl chloride, polypropylene, etc.) (Nerland et al. 2014). Plastic materials have become versatile, competitive and reliable substitutes for traditionally used metal, leather and wood materials in the past 5 decades because of their toughness, flexibility and physical properties (Sivan 2011; Singh and Sharma 2008). Durability and undesirable accumulation of synthetic polymers are major threats to the environment. Plastic waste recycling has largly unsuccessful outcomes; of the over 1 trillion plastic bags dumped per annum in the US, only 5% are recycled. Apparently, waste management (bioremediation) is one of the ways to reduce the adverse effects and can serve as a potential tool (Shah et al. 2008b; Ojo 2007; Ali et al. 2014).
In-vitro degradation of synthetic polymers is a time-consuming process (Schink et al. 1992; Bhatnagar and Kumari 2013). Production of synthetic polymers, especially polyethylene (140 million tons per annum), is causing problems with the waste management, and their consumption is increasing day by day at a rate of 12% per annum (Kumar et al. 2011; Sivan 2011; Shah et al. 2008b; Koutny et al. 2006).
Plastic waste in the form of litter enters running water in different ways according to nature and ultimately contaminates the marine environment (Obradors and Aguilar 1991). The proliferation rate of plastic materials is very fast, and the marine environment is affected by such wastes throughout the world. Plastic waste causes eight intricate problems in the marine environment: (1) plastic trash pollutes, (2) plastic entangles marine life, (3) ingestion of plastic items, (4) biodegradation of petroleum-based plastic polymers is time-consuming, (5) broken plastic and its pellets disturb the food web, (6) interference with sediment inhabitants, (7) marine litter destroying the primary habitat of new emerging life and (8) marine plastic litter causes major damage to vessels. In a 1970s study on 247 plankton samples in the Atlantic Ocean, 62% of the samples found plastic matter. Similarly, in the North Atlantic during the 1960s–1990s sampling of plankton showed a considerable increase of microscopic plastics in the marine environment (Moore 2008).
Distribution of different types of polymers
Polymers are made up from non-renewable as well as renewable feedstock. These polymers are well known for their diverse applications in industries, domestic appliances, transportation, construction, shelters, storage and packaging practices. Such polymers are differentiated according to their chemical nature, structural arrangement, physical properties and applications as shown in Table
1
(Shah et al.
2008b
; Dey et al.
2012
; Kumar et al.
2011
; Smith
2005
).
Type of polymer

Structure

R group

Structure

Tm (°C)

Application

References

Bio-based polymers

Poly (3-hydroxyvalerate) (PHV)

Homo-polymer

Ethyl

118

Industrial, drug delivery

(Averous and Pollet 2012; Liu et al. 2014; Ojumu et al. 2004; Turesin et al. 2000; Bonartsev et al. 2007)

Poly (3-hydroxybutyrate) (PHB)

Homo-polymer

Methyl

168–182

Pharmaceutical and drug delivery

(Averous and Pollet 2012; Liu et al. 2014; Velde and Kiekens 2002; Nurbas and Kutsal 2004; Ojumu et al. 2004; Jirage et al. 2011; Turesin et al. 2000)

Poly (3-hydroxyoctadecanoate) (PHOd)

Homo-polymer

Penta decanoyl

54–55

Medicine area

(Averous and Pollet 2012; Guo et al. 2013; Dhar et al. 2008; Giudicianni et al. 2013; Bonilla and Perilla 2011)

Poly (3-hydroxyoctanoate) (PHO)

Homo-polymer

Pentyl

40–60

Medical applications

(Averous and Pollet 2012; Souza 2013; Basnett et al. 2012; Liu et al. 2011; Basnett et al. 2013)

Poly (3-hydroxydecanoate) (PHD)

Homo-polymer

Heptyl

54

Fiber industry

(Averous and Pollet 2012; Werner et al. 2014; Song et al. 1998; Rameshwari and Meenakshisundaram 2014)

Poly (3-hydroxybutyrate-co-3-hydroxyhexanoate) (PHBHx)

Co-polymer

Methyl, with propyl

10%HH×120

Medical applications

(Babul et al. 2013; Averous and Pollet 2012; Chang et al. 2014; Coen and Dehority 1970; Xie et al. 2009)

Poly (hydroxybutyrate-co-hydroxyvalerate) (PHBV)

Co-polymer

Methyl with ethyl

165–175

Pharmaceutical (drug delivery)

(Nerland et al. 2014; Gerard et al. 2014; Nwachkwu et al. 2010; Hatakka 2005; Danis et al. 2015; Zembouai et al. 2014)

Synthetic polymers

Polyethylene

Homo-polymer

Hydrogen

140–143

In wires (as insulating matter), bags

(Tobin 2010; Nakayama et al. 1991; Menon et al. 2010; Petre et al. 1999)

Polyvinyl chloride

Homo-polymer

Chorine

[–CH2–CHCl–]n

115–245

Leather, pipe, bottles

(Wilkes et al. 2005; Summers 2008; Summers 1996; Menon et al. 2010)

Polypropylene

Homo-polymer

Methyl

165

Fabric material, carpets

(Ruiyun et al. 1994; Tripathi 2002; Mccallum et al. 2007; Yam 2009; Perez et al. 2014; Menon et al. 2010; Petre et al. 1999)

Polyethylene terephthalate

Homo-polymer

Carboxyl and hydroxyl

280

Packaging applications, bottles, food wrappers, pipes

(Zheng and Yanful 2005; Perez et al. 2002; Liu et al. 2011; Jeffrie 1994; Kwon et al. 2009)

Polyurethane

Hetero-polymer

Isocyanate and polyol

400

Fibers, foams, paints, coating, packaging

(Zheng and Yanful 2005; Slade et al. 1964; Zafar 2013; Zembouai et al. 2014)

Polystyrene

Homo-polymer

Phenyl

240

Cups, containers, pharmaceutical, plates, cosmetics

(Zheng and Yanful, 2005; Sharma et al. 2000; Flavel et al. 2006; Nakayama et al. 1991; Carvalheiro et al. 2008; Mcalpine et al. 2001)

Polycarbonate

Homo-polymer

Carbonate

52–150

Heat-resistant coating, optical instruments and automotives

(Sweileh et al. 2010; Koutsos 2009; Jeon and Baek 2010; Cheah and Cook 2003; Akola and Jones 2003; Scheller and Ulvskov 2010; Takanashi et al. 1982)

Nylon

Homo-polymer

Amide

190, 276

Fiber manufacturing

(Leja and Lewandowicz 2010a, b; Chao and Hovatter 1987; Wan et al. 1995; Kubokawa and Hatakeyama 2002; Hasegawa and Mikuni 2014)
Natural polymers
Natural polymers are found abundantly in nature in the forms of biopolymers and dry material of plants as shown in Table
2
(Leschine
1995
). The constitution of the plant cell wall differs with the composition of the lignocellulosic biomass (cellulose, hemicellulose and lignin), which provides strength (Premraj and Doble
2005
). Lignocelluloses play a critical role in developing plant biomass, in which cellulose, hemicellulose and lignin are the major building blocks of the natural polymer (Perez et al.
2002
).
Microorganism based

Biotechnology based

Agro-based

Polyhydroxyalkanoates (mcl-PHA, PHB, PHB-co-V)

Polylactides, PBS, PE, PTT, PPP

Polysaccharides and lipids (starch, cellulose, alginates)

Proteins–animal proteins (casein, whey, colagen/gelatin), plant protein (zein, soya, gluten)
Synthetic polymers
Plastics are manmade compounds that consist of a long chain of polymeric molecules and unusual bonds, with excessive molecular mass and halogen substitutions. Nowadays plastic manufacturing involves different inorganic and organic materials, including carbon, hydrogen, chloride, oxygen, nitrogen, coal and natural gases (Shah et al.
2008b
). The most widely used polymers contributing to plastic waste are low-density polyethylene (LDPE), high-density polyethylene (HDPE), polyvinyl chloride, polystyrene and polypropylene with 23, 17.3, 10.7, 12.3 and 18.5%, respectively, and the remaining 9.7% of other types of polymer (Puri et al.
2013
). The polymer production in 2012 was estimated as polyethylene 30% (LLDPE and LDPE 18%, HDPE 12%), polypropylene 19%, polyvinyl chloride 11%, polystyrene 7%, polyethylene terephthalate 7% and polyurethanes 7% worldwide (Nerland et al.
2014
). The sales distribution and amount in percentage of synthetic polymer consumed in North America during 1995 and 2004 are shown in Table
3
and Fig.
1
, respectively (Summers
1996
; Zheng and Yanful
2005
).
Table 3
Plastic sales in North America, 1995 (Summers 1996)
| Type of polymer | Billions of pounds |
| --- | --- |
| LDPE/LLDPE | 14–16 |
| PVC | 12–14 |
| HDPE | 12–14 |
| PP | 10–12 |
| PS | 6–7 |
| Polyester | 4 |
| PC | <2 |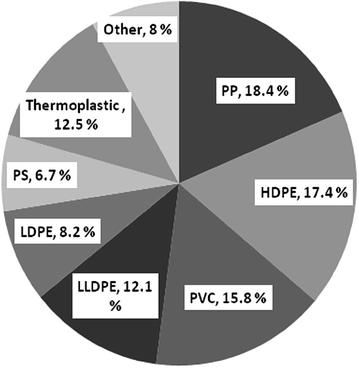 Standards for polymer degradation
Literature and information on biodegradable products are organized by the US government, with the help of the Biodegradable Products Institute (BPI). BPI is an organization that deals with academia, industry and government bodies that encourage recycling of polymeric materials (biodegradable). Production of the biodegradable polymer involves the addition of starch and plant fiber extract. BPI provides matter to the ASTM (American Society for Testing and Materials) for assembling ASTM standards (ASTM D6400, D6866). These are the principle databases of degradation used to supervise industry. The logo for the compostable product was introduced by the USCC (US Composting Council) and BPI, shown in Fig.
2
(Kolybaba et al.
2003
;
http://www2.congreso.gob.pe/sicr/cendocbib/con2_uibd.nsf/4EF8A31F2BF5D3480525772A0053CD80/$FILE/Ensayo_biodegradables_pl%C3%A1sticos_by.pdf
).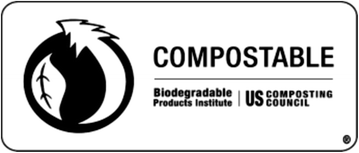 Diversity of polymer degradation
Living organisms are involved in the breakdown of plastic material, and consequently the recycled form reverses back to the environment. Anaerobic microbial degradation releases greenhouse gas (methane) in landfills, which increases global warming. Aerobic conditions are essential for fungal degradation while bacterial degradation proceeds in aerobic as well as anaerobic conditions (Kumar et al. 2011; Chandra and Rustgi 1998). Plastic can be reduced in an eco-friendly manner with the help of soil bacteria and proper water availability. Decomposition of the polymer depends on its chemical composition, which supports the growth of microorganisms in the form of nutrient sources. The starch-based polymer is favorable for microbial attack, and hydrolytic enzymes act on the polymer matrix to reduce their weight. Polymer made from starch or flax fiber shows greater biodegradability as compared to other synthetic polymers. Microorganisms also play an important role in the degradation of petroleum-based polymers. Petroleum-based polymers such as polyolefins are degraded through photo-degradation (Kumar et al. 2011; Sen and Raut 2015).
Emerging technology is continuously involved in improving the processing of biopolymers by using an additive (benzophenone) during their construction. Additives play a significant role in the chemical process during photo-degradation. Such amendments affect their thermal sensitivity and UV-absorbing capacities. Chemically sensitive polymers have a better biodegradability rate compared to other polymers. Similarly, thermal exposure is also involved in the breakdown of a polymer into simpler forms that increase the availability of microorganisms. Nodax is alkaline in nature and generally involves in the structural change of the polymer (Kumar et al. 2011; Augusta et al. 1993).
Renewable resources are also used in the formation of biodegradable materials. Animal and plant originated compounds are susceptible to microbial degradation (Schink et al. 1992). Development of bio-based materials is beneficial for our environment's sustainability, maintenance of greenhouse gas emissions, etc. (Song et al. 2009). This type of material's manufacturing practice plays a significant role in the environment by reducing the amount of dumped polymer waste (Leja and Lewandowicz 2010a, b). Many synthetic polymers are degraded under exposure to solar ultraviolet (UV) radiation, photo-oxidative, thermo-oxidative and photolytic reactions (Singh and Sharma 2008). In the natural environment, hydrolytic properties of seawater, oxidative properties of the atmosphere and sunlight radiation (UVB) make the polymers fragile and eventually break them into smaller pieces (Moore 2008). The American Society for Testing and Materials (ASTM) and International Standards Organization (ISO) provided the analytical protocol for plastic degradation on the basis of alteration in chemical structure and loss of physical properties of plastic (Kumar et al. 2011; http://www2.congreso.gob.pe/sicr/cendocbib/con2_uibd.nsf/4EF8A31F2BF5D3480525772A0053CD80/$FILE/Ensayo_biodegradables_pl%C3%A1sticos_by.pdf).
Conclusion
Microorganisms are capable of degrading inorganic and organic materials, and interest has been aroused to study microbes for their ability to degrade plastic polymers. P. aeruginosa, P. stutzeri, S. badius, S. setonii, R. ruber, C. acidovorans, C. thermocellum and B. fibrisolvens are the dominant bacterial spp. associated with polymer degradation. P. aeruginosa is one of the widely reported microorganisms for polymer degradation via biofilm formation with the help of alginate-like chemicals and quorum sensing signaling systems, i.e., Rh1I/Rh1R. Biofilm formation improves the degradation efficiency followed by the mineralization (polyethylene glycols mineralization) process. Pseudomonas aeruginosa CA9 is reported to have better biodegradation with LDPE, Pseudomonas sp. AKS2 is reported for biofilm formation on LDPE and biodegradation of LDPE via enhancing microbial growth with 26% surface hydrophobicity and 31% hydrolytic activity. P. stutzeri is reported for high molecular weight (4000–20,000) PEG degradation, and Streptomyces badius 252 and Streptomyces setonii 75Vi2 were more effective against heat-treated degradable plastics. Rhodococcus ruber has been reported to colonize and degrade polyethylene by forming a biofilm and hydrolyting enzymes. Polyethylene biodegradation was improved by introducing peroxidant additives in manufacturing processes that make it susceptible to in vitro thermal and photochemical mineralization. C. acidovorans TB-35 is also useful for polyester–polyurethane degradation through PUR esterase production and enzymatic hydrolysis. Gene pudA is the key gene from Comamonas acidovorans TB-35 encoding the enzyme PUR esterase. Fungi like A. niger, A. flavus, F. lini, P. cinnabarinus and M. rouxii are prevalently found for polymer degradation. A. niger produces acetyl xylan esterase, which works with the combination of endo-xylanase for efficient xylan degradation. A. niger and A. flavus are also suitable for the rapid mineralization of medium-length monomer units. A. niger is effective in polythene degradation, while Aspergillus flavus is reported for PCL as well as polythene biodegradation. Similarly, Mucor rouxii NRRL 1835, Aspergillus flavus and Streptomyces are also involved in starch-based polyethylene degradation. Fusarium lini is involved in synthesizing dehydratase, which is responsible for polyvinyl alcohol degradation with CO2 and H2O formation. P. cinnabarinus is also known as white rot fungus and is involved in PVA biodegradation in the presence of Fenton's reagent. The above discussion illustrates the occurrence of polymer-degrading microorganisms. Hence, further studies on the screening of effective microbial strains are essential to minimize polymer risks for the environment.
Abbreviations
LDPE:

low-density polyethylene
HDPE:

high-density polyethylene
PVA:

polyvinyl alcohol
PEA:

polyethylene adipate
PUR:

polyurethane
PCL:

polycaprolactone
TPS:

thermoplastic starch
PLA:

polylactic acid
PHB:

polyhydroxybutyrate
PHAs:

polyhydroxyalkanoates
PESu:

polyethylene succinate
EPS:

extracellular polymeric substance
ISO:

International standards Organization
ASTM:

American Society for Testing and Materials
SEM:

scanning electron microscopy
FTIR:

Fourier transform infrared
Declarations
Authors' contributions
Both authors have contributed equally to the manuscript. Author VMP has carried out the data study. Author N guided him during the study. Both authors read and approved the final manuscript.
Competing interests
The authors declare that they have no competing interests.
Ethical statement and consent to participate
This article does not contain studies by any of the authors on humans and animals. All associated authors are listed within the manuscript, and no other person satisfied the criteria for authorship.
Funding
This work was supported by research Grant No.F. 25-1/2013-14(BSR)/11-13/2008 (BSR), University Grants Commission (UGC), India.
Open AccessThis article is distributed under the terms of the Creative Commons Attribution 4.0 International License (http://creativecommons.org/licenses/by/4.0/), which permits unrestricted use, distribution, and reproduction in any medium, provided you give appropriate credit to the original author(s) and the source, provide a link to the Creative Commons license, and indicate if changes were made.
Authors' Affiliations
(1)
Department of Botany and Microbiology, Gurukul Kangri University, Haridwar, India