Green microalgae biomolecule separations and recovery
Bioresources and Bioprocessing
2018
5:14
Received: 8 January 2018
Accepted: 16 March 2018
Published: 28 March 2018
Abstract
Microalgae biomass has garnered significant attention as a renewable energy feedstock and alternative to petroleum-based fuels. The diverse metabolism of green microalgae species additionally provides opportunities for recovery of products for feed, food, nutraceutical, cosmetic, and biopharmaceutical industries. Recently, the concept of using microalgae as part of a biorefinery model has been adopted in place of refinery methods focused on recovering one target product. This has led to producers exploring co-production of high value and high volume products in an effort to improve process economics. With numerous potential products and applications, the biomass source or specific strain must be carefully selected to accumulate extractable levels of the target molecule(s). It is additionally imperative to understand the morphology and metabolism of the selected strain to cost-effectively manage all stages of commercial production. This review will focus specifically on microalgae in the division of Chlorophyta, or green algae and their extracellular matrices (ECM), potential for commercial products, and finally describe a holistic approach for biomolecule extraction and recovery. Additionally, cell disruption and fractionation methods for recovery of biomolecules for commercial products are highlighted along with an alternative method, aqueous enzymatic processing for multiple biomolecule extraction and recovery from green microalgae. An emphasis is placed on connecting the morphological characteristics of microalgae ECM or organelle membranes to implications on separation and purification technologies.

Keywords
MicroalgaeEnzymesBiorefineryDownstream processing
Introduction
Microalgae, a large and diverse group of unicellular photo- and heterotrophic organisms, have significant potential for production of a vast array of valuable products for diverse industries. Microalgae use solar energy, nutrients, and carbon dioxide (CO2) to produce proteins, starch, lipids, and other biomolecules. Much research has been conducted in regard to using microalgae biomass as an alternative fuel source, but other valuable products can be sourced from microalgae including bioactive compounds for human health and nutrition (omega-3 fatty acids), biopharmaceutical, cosmetic, and feed industries (Skjånes et al. 2012; Mercer and Armenta 2011). Value-added products include carotenoids; phycobiliprotein pigments; vitamins C, E, and biotin; fatty acids (linolenic, arachidonic, etc.); and recombinant proteins (Converti et al. 2009).
While microalgae has demonstrated potential as an alternative and sustainable biomass source for biofuels and bioproducts, techno-economic assessments have repeatedly concluded that microalgae-derived fuels, animal feed inputs, and bulk chemicals cannot currently compete with market prices (Chauton et al. 2015; Benemann 2013). Central to this barrier to commercialization of microalgal products are the processing techniques used to extract and recover biomolecules. The most critical step to access internally stored biomolecules is cell disruption. Current processes are energy-intensive, expensive, and/or utilize organic solvents, which has significant environmental implications. To improve process economics and promote product commercialization, processes should be robust, energy-efficient, minimize the environmental impact, and maintain product quality. Thus, alternative processing techniques such as enzymatic hydrolysis are being explored for cell disruption. Enzymatic hydrolysis, in addition to serving as pretreatment for cell disruption, can be selectively used for extraction of valuable biomolecules produced in organelles. By employing a strategy whereby algal species are classified based on ECM characteristics, enzymes specifically targeting components found in the ECM can be used to permeabilize and/or lyse the matrix prior to additional processing. Additionally, identifying structural components of organelle membranes can similarly allow for targeted enzymatic hydrolysis of organelles and facilitate extraction of biomolecules. This paper discusses traditional and emerging products and general downstream processing (DSP) of green microalgae and reviews the cell morphology of several microalgae species including Dunaliella, Haematococcus, Nannochloropsis, Spirulina, Chlorella, and Chlamydomonas through classification of their ECM. Additionally, cell disruption and fractionation methods for recovery of biomolecules are discussed along with an alternative processing strategy for multiple biomolecule extraction and recovery from microalgae.
Products and downstream processing
Extracellular matrices and pretreatment strategies for disruption
The first step for recovery of biomolecules from within the cell is disruption of the extracellular matrix (ECM). The extracellular matrices of cells serve to protect and defend the microalgae cell, are involved in growth and development, and promote adhesion and interaction with other cells and substrates (Domozych et al. 2012). As a structural barrier to release of intracellular molecules, understanding the ECM is imperative for biomolecule extraction and recovery. The following sections begin with a description of the morphology and composition of ECM in various green microalgae species and then highlight traditional techniques for ECM disruption. Finally the emergent use of enzymatic hydrolysis for ECM disruption is discussed with an emphasis on applicable enzyme classes based on ECM composition.
Product-containing organelles and disruption strategies
After lysing the ECM, product-containing organelles must also be disrupted to gain access to target biomolecules. In green microalgae, the chloroplast and lipid droplets are common storage sites of biomolecules and the morphology of each along with cell disruption methods are discussed in the following sections.
Chloroplast structure and disruption strategies
The chloroplasts of green microalgae are the site of photosynthesis and carbon fixation (Engel et al. 2015) and thus, the chloroplast has a great capacity for accumulation of endogenous proteins, starch, lipids, and pigment/carotenoids (Franklin and Mayfield 2005). Additionally, green microalgae have well-developed genetic engineering toolkits and can be engineered to produce high value "foreign" or recombinant proteins along with high volume products (lipids) within the chloroplast.
Understanding morphology and internal structure allows for appropriate selection of disruption techniques for recovery of products from the chloroplast. Microalgae chloroplasts can occupy a large percentage of total cell volume (up to 60%) and are usually cup or basal shaped (Munoz et al. 2014). The chloroplast is generally surrounded by a double envelope membrane and composed internally of thylakoids in bands stacked in irregular patterns. Thylakoids are rich in protein but have membranes dominated by lipids (Simionato et al. 2013). Other components of microalgae chloroplast include photosynthetic pigments, chlorophyll a and chlorophyll b, and carotenoids α- and β-carotene and xanthophylls such as astaxanthin, lutein, zeaxanthin, and neoxanthin (Gong and Bassi 2016; D'Alessandro and Filho 2016).
Previous research into disruption of green microalgae chloroplasts has been for purposes including studying chloroplast proteins, exploring chloroplast DNA and protein synthesis processes, and for identifying proteins induced under specific culturing conditions (Balczun et al. 2006; Bayer et al. 2015; Flores-Pérez and Jarvis 2017). In these instances, researchers isolated intact chloroplasts and then disrupted the organelles using techniques such as freeze–thaw rupture, enzymatic hydrolysis with trypsin and chymotrypsin, and osmotic shock with hypotonic lysis buffers (Bayer et al. 2015; Flores-Pérez and Jarvis 2017). When the chloroplast is disrupted for the purpose of microalgae biorefining, the proteinaceous nature of the outermost membrane can be targeted using a biological-based disruption technique like enzymatic hydrolysis. While use of enzymes for biorefining microalgae is in the development phase, the selective nature of enzymatic hydrolysis has obvious advantages to current chloroplast lysis techniques such as freeze–thaw rupture and osmotic shock. These methods would likely result in a complex lysate requiring additional fractionation steps.
While the protein composition in the membrane can be diverse, general use proteases or cocktail mixtures can potentially cleave and digest peptide bonds. Trypsin, a general serine protease, can cleave various protein substrates. The relatively mild conditions to achieve optimum activity make trypsin a viable candidate for targeting microalgae organelles, particularly the chloroplast. Metalloproteases, which have reported lytic activity against cell walls (Wu and Chen 2011), also have potential in enzymatic hydrolysis of organelle membranes. Bacterial proteases with endopeptidase activities in the neutral pH range can cleave proteins from a variety of sources which could likely include the membranes of microalgae chloroplasts.
Lipid droplet structure and disruption strategies
Within the microalgae cell, lipid droplets (LD) are the major site of neutral lipid storage (Goold et al. 2014) and additionally contain valuable products such as carotenoids and pigments. Under nitrogen-replete conditions, green microalgae contain one or two lipid droplets but LD synthesis and accumulation are activated in the presence of stress conditions including nutrient depletion (-N, -Fe, -S, -P), high light, hypoxia, increased salinity, or chemical application (Wang et al. 2009). When stress conditions persist, a metabolic shift or reorganization occurs which leads to the formation of carbon reserves (starch and oil) and a downregulation of photosynthesis and protein synthesis.
The LD comprised a core of triacylglycerols surrounded by a monolayer of polar lipids and proteins interspersed throughout (Goold et al. 2014). For many microalgae species, the major proteins in the LD membrane are generally hydrophobic, maintain the size/structure of LD, and prevent fusion of multiple LD (Moellering and Benning 2009). In C. reinhardtii and D. salina, the most abundant LD membrane protein has been termed major lipid droplet protein (MLDP) (James et al. 2011; Davidi et al. 2012) while those in H. pluvialis and Nannochloropsis sp. have been termed Haematococcus oil globule protein (HOGP) and lipid droplet surface protein (LDSP), respectively (Peled et al. 2011; Vieler et al. 2012). Chlorella sp. contain a homolog of caleosin, an oil-body surface protein found in higher plants, as the most abundant protein in their LD (Lin et al. 2012).
Expellers, presses, or lipophilic solvents are used to disrupt LD and access encased lipids or carotenoids but require prior drying of microalgal biomass (Mubarak et al. 2015). These methods are additionally disadvantageous because of slow processing times and the requirement of large biomass quantities (Harun et al. 2010). Lipophilic solvents can be polar or non-polar and include n-hexane, ethanol, 1-butanol, dimethyl ether, and mixtures of chloroform/methanol, n-hexane/ethanol, n-hexane/isopropanol among others (Neto et al. 2013). At an industrial scale, n-hexane is the most used solvent for lipid extraction while chloroform/methanol (1:2 v/v) is common for laboratory scale extractions. Mixing polar and non-polar solvents has been demonstrated to promote solvation and lipid recovery (Yoo et al. 2012; Ghasemi Naghdi et al. 2014). Although organic solvents have a long and established history in lipid extraction, the handling and toxicity of the volumes required for commercial scale operations have encouraged development of alternatives for disrupting LD membranes and accessing internal products.
As an alternative to conventional techniques of LD disruption, enzymatic hydrolysis could be employed to target the monolayer of polar lipids or the most abundant membrane protein (MLDP, HOGP, LDSP, caleosin) in LDs. Lipases/phospholipases that can be applied to the ECM for disruption exhibit similar potential for lipid droplet disruption. Additional characterization of lipids in the polar monolayer would allow for selection of a candidate phospholipases/lipases for cleavage and digestion of the lipid droplet membrane. For example, when targeting esters or triglycerides, enzyme preparations with these known substrate specificities could aid in the cleavage of membrane lipids in the lipid droplet.
Future directions of aqueous enzymatic processing
When used for recovery of proteins and oil from microalgae, AEP includes biomass conditioning for maximum enzyme activity, primary enzyme addition, incubation for cell wall disruption and protein solubilization, solvent or detergent-based extraction of biomolecule, and finally centrifugation and biomolecule recovery (Huo et al. 2015; Chen et al. 2016; Wu et al. 2017). An alternative and holistic approach to aqueous enzymatic processing was developed including biomass (biomolecule) production, harvesting, enzymatic degradation of cell wall, enzymatic degradation of organelle membranes, and product separation and fractionation (Soto Sierra et al. 2017). With this process, enzymes were used for cell disruption and for catalyzing product release from internal cellular compartments. There also exists an opportunity for enzymes to disrupt naturally occurring emulsions, facilitating more efficient product separation and fractionation.
After extensive literature review of existing applications of aqueous enzymatic processing, a methodical approach to AEP of various microalgae species was conceived (Fig.
3
) by our research group. This systematic approach focuses on the structural composition of the ECM and any product-containing organelles and allows for the processor to select candidate enzymes to facilitate disruption. Considerations before beginning aqueous enzymatic processing include selection of target products, identification of microalgae species for target product accumulation and corresponding ECM, enzyme targets in the ECM, enzyme targets in product-containing organelles, requirements for additional product processing, and an integration of product streams into final product processing operations.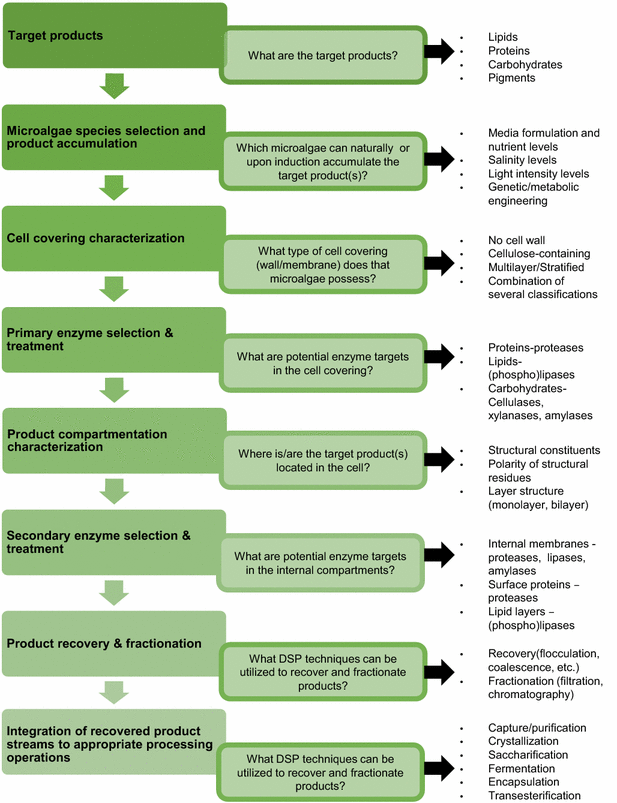 To assess the applicability of the developed methodology, an evaluation of literature employing enzymatic hydrolysis was conducted with the goal of investigating the methods employed by researchers using microalgae species with similar ECM characteristics. As previously described in "The diversity of extracellular matrices" section, Nannochloropsis and Haematococcus species share cell wall characteristics that include being cellulose containing (fibrillary) and possessing multilayered organization. Enzymes tested for disruption include various commercial enzyme cocktails of cellulases, hemicellulases, amylases, and glucosidase among others. Carbohydrase activity and specificity have demonstrated potential in targeting the polysaccharide-rich nature of Nannochloropsis and Haematococcus cell walls (Machado et al. 2016; Zuorro et al. 2015). Likewise, Chlamydomonas, Chlorella, and Spirulina species possess multilayered cell walls primarily composed of metabolites including proteins, lipids, and polysaccharides (not including cellulose). Proteases, carbohydrase cocktails, and combined carbohydrase–protease cocktails have been used to target the various metabolites in the cell walls of Chlamydomonas, Chlorella, and Spirulina species (Cho et al. 2013; Choi et al. 2010; Liang et al. 2012; Mahdy et al. 2014b; Soto Sierra et al. 2017). As Dunaliella species possesses a thin plasma membrane instead of a cell wall, enzymes are not used for pretreatment but rather for biomolecule (carotenoid/pigment) extraction.
Recently, a methodology for native protein and lipid extraction and recovery from wild-type
Chlamydomonas reinhardtii
was described (Soto Sierra et al.
2017
) (Fig.
4
). Candidate enzymes selected to potentially target the cellulose-deficient, hydroxyproline-rich cell wall included lysozyme, trypsin, collagenase, and a
C. reinhardtii
-derived autolysin. Cell wall disruption efficiency was assessed with qualitative and quantitative methods including counting of intact cells after treatment and the application of non-ionic detergents or fluorescent dyes capable of penetrating and staining organelles of cells with disrupted cell walls. Cell wall disruption and native protein release was achieved using gamete autolysin produced by
C. reinhardtii
cells. Analysis revealed that autolysin treatment at 35 °C for an extended period solubilized more that 50% of the total protein and resulted in partially disrupted chloroplasts. Following this enzymatic cell wall disruption, remaining proteins and lipid droplet localization in the chloroplast was confirmed. The composition of the chloroplast and lipid droplet membranes was further explored to determine candidate enzymes for cleavage of membrane components and product release. Enzymes include trypsin, Alcalase
®
, DSM metalloprotease (Maxipro
®
), and Glucanex
®
. The highest lipid release (73%) occurred with the application of trypsin to gamete autolysin-treated cells. In summary, a proof of concept study was conducted to enzymatically hydrolyze the cell wall and organelle membranes of
C. reinhardtii
cells. While native proteins and lipids were extracted and/or released from intracellular compartments, optimized conditions for enzyme application and incubation in addition to fundamentally understanding the enzyme–biomolecule interactions are required. Future efforts should include assessing and modeling the enzymatic hydrolysis approach for multiple biomolecule extraction and recovery for large-scale processing operations.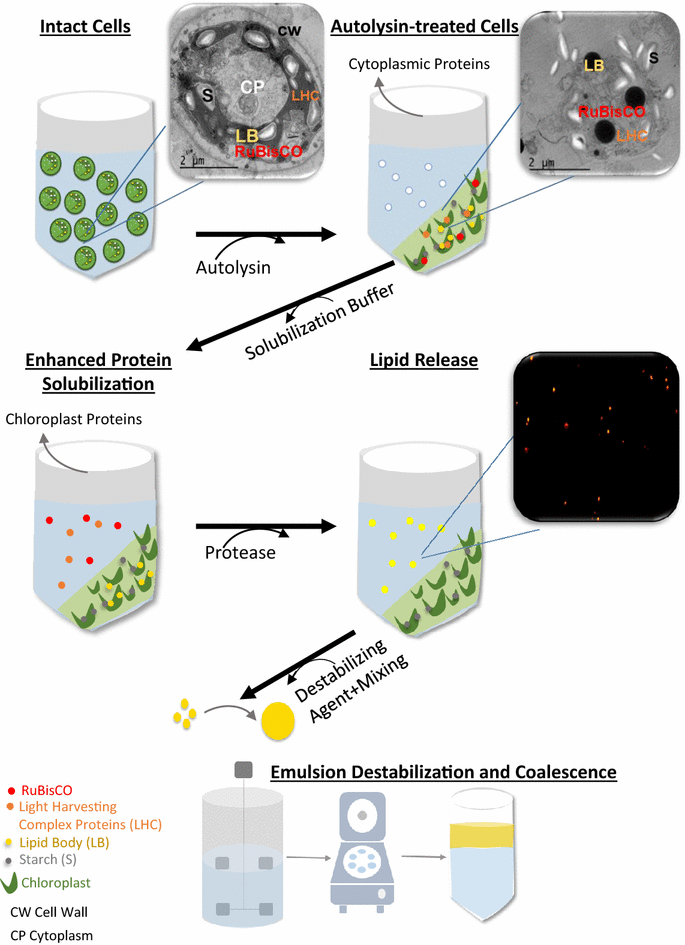 Conclusions
Global interests are increasingly pursuing sustainable and renewable sources of energy and other bioproducts. Microalgae has a demonstrated history as a viable biomass source, but established processing techniques have often proved to be cost prohibitive mainly due to energy investments, scalability, and an underutilization of biomass components. The development of extraction and purification methods have traditionally focused on single product recovery and thus may not be suitable or compatible with multiple bioproduct recovery. Researchers have begun using alternative processing techniques such as enzymatic hydrolysis to disrupt microalgae cells and extract and recover multiple biomolecule product precursors with the goal of improving process economics.
To fully realize the effect of alternative processing strategies such as aqueous enzymatic processing, better characterization of microalgae ECMs, organelle membrane compositions, and resultant biomolecule fractions are necessary. Such characterization will allow for producers to assess the effects of enzymatic treatment on the functionality of target biomolecules. This will provide new opportunities for applications of aqueous enzymatic processing for biomolecule recovery or as an enhancing method for traditional recovery schemes. Additionally, connecting morphological characteristics of microalgae ECM and their organelles to implications on process design can serve to improve bioproduct recovery yield and process economics. Thus, researchers and producers can overcome barriers to commercialization by tailoring the processing techniques to both characteristics of the biomass source and target biomolecules.
Abbreviations
AEP:

aqueous enzymatic processing
CO2 :

carbon dioxide
CSFV:

classical swine fever virus
DMSO:

dimethyl sulfoxide
DSP:

downstream processing
ECM:

extracellular matrix
EPA:

eicosapentaenoic acid
HBsAg:

hepatitis B virus surface antigen
HOGP:

Haematococcus oil globule protein
HPH:

high pressure homogenization
HSH:

high shear homogenization
IgG:

immunoglobulin G
LD:

lipid droplet
LDSP:

lipid droplet surface protein
MAE:

microwave-assisted extraction
MLDP:

major lipid droplet protein
NP-1:

neutrophil peptide 1
O&M:

operational and maintenance
PBR:

photobioreactor
PEF:

pulsed electric field
RP:

recombinant protein
TSP:

total soluble protein
Declarations
Authors' contributions
CD and LRW developed manuscript concept, review topics, and structure. CD investigated the references and drafted the manuscript. LRW edited the manuscript. Both authors read and approved the final manuscript.
Acknowledgements
The authors would like to acknowledge Laura Soto Sierra for her contributions and investigations of the proposed aqueous enzymatic processing of Chlamydomonas reinhardtii.
Competing interests
The authors declare that they have no competing interests.
Availability of data and materials
The authors have no data/materials to deposit. The manuscript is based on a literature review of sources included in the reference list.
Consent for publication
Not applicable.
Ethics approval and consent to participate
Not applicable.
Publisher's Note
Springer Nature remains neutral with regard to jurisdictional claims in published maps and institutional affiliations.
Open AccessThis article is distributed under the terms of the Creative Commons Attribution 4.0 International License (http://creativecommons.org/licenses/by/4.0/), which permits unrestricted use, distribution, and reproduction in any medium, provided you give appropriate credit to the original author(s) and the source, provide a link to the Creative Commons license, and indicate if changes were made.
Authors' Affiliations
(1)
Biological and Agricultural Engineering Department, Kansas State University, Manhattan, USA